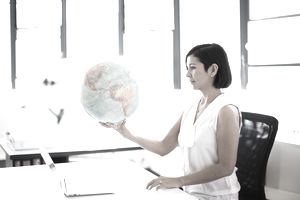 Many new and established sellers may be intimidated by shipping internationally on eBay. This is perfectly understandable since the average person has never shipped a package out of the country. International shipping is not that much different than domestic shipping. There are just a few more rules to understand and the package's journey takes a bit longer. Here are a few tips to keep in mind if you are learning to ship internationally or want to expand your reach to other countries.
Evaluate the eBay Global Shipping Program
eBay developed the Global Shipping Program as a way to streamline and standardize international shipping. At first glance, this is a good idea, but international shipping has many variables and is really impossible to standardize across every country and every type of item shipped.
All packages going through the eBay Global Shipping Program are shipped Priority International even if it weighs under 4 pounds and could be shipped First Class International. eBay does this because Priority International comes with tracking and insurance, and First Class International does not. All items also have customs fees added, even if they aren't necessary. These two issues, Priority Mail International and customs fees can make the cost very high for the buyer. And since the shipping price is inflated, some buyers in countries outside the United States won't buy items shipped GSP.
It may be better to ship the item directly to the customer yourself, and bypass the 
Make Sure the Item is Allowed
There are strict rules outlining what items are allowed in specific countries. For example, Australia prohibits used bedding, like sheets and comforters. Peru prohibits used clothing. Italy doesn't allow anything made from animal hair, leather, or anything made with gold such as jewelry, collectibles, or accessories.
Tt is the sellers' responsibility to understand what can and can't be shipped to different countries. Usually, these rules originate from an item that is produced in that country as the home country is attempting to control imports. 
Another reason for strict prohibitions is that the country is trying to control disease from entering the country. Perishable foods, plants, or anything living are not allowed in many countries because they may contain parasites or or be a biohazard in some way. Dangerous and hazardous items including firearms, explosives, radioactive items, or weapons. are not allowed. Below is a list of some examples of other countries and items that they prohibit via international shipping. Italy has a whopping 130 prohibitions:
Albums of any kind
Arms and weapons
Articles of platinum and gold
Artificial flowers and fruits
Bells and other musical instruments and parts
Cartridge caps; cartridges
Compound medicaments and medicines.
Coral mounted in any way.
Ether and chloroform.
Exposed photographic and cinematographic films.
Footwear of any kind.
Haberdashery and sewn articles of any kind, including trimmings and lace; handkerchiefs; scarves; shawls, needlework including stockings and gloves; bonnets, caps, and hats of any kind.
Hair and articles made of hair.
Human remains.
Leather goods.
Lighters and their parts, including lighter flints.
Lithium cells and batteries — including items containing lithium cells and batteries under 135.6.
Live bees, leeches, and silkworms.
Live plants and animals.
Nutmeg, vanilla; sea salt, rock salt; saffron.
Parasites and predators of harmful insects.
Perfumery goods of all kinds (except soap).
Playing cards of any kind.
Postage stamps in sealed or unsealed First-Class Mail International or First-Class Package International Service shipments.
Radioactive materials.
Ribbons for typewriters.
Roasted or ground coffee and its substitutes; roasted chicory.
Saccharine and all products containing saccharine.
Salted, smoked or otherwise prepared meats; fats; and lard.
Tobacco.
Toys not made wholly of wood.
Treated skins and furs.
Weapons of any kind and spare parts for them.
Always check the list on the USPS website that outlines the complete list of countries and prohibited items for each. Make sure to do your due diligence to verify the item you are selling is allowed in the countries you choose.
Understand Insurance Options
If you are shipping through the eBay Global Shipping Program, all items are shipped USPS Priority Mail with insurance. If shipping direct, or not using eBay's GSP, you can self-insure through one of many third party companies that offer insurance services. Most insurance costs around $1 per every $50 of value of the item. For example, if you sold a Lladro collectible ceramic statue for $200, the insurance will cost around $4. 
Third party insurance is not tracking. It simply is a safety net in case the item is lost or damaged in transit. Companies that offer international shipping insurance include:
Third party insurance is affordable and a wise decision when shipping direct. It can be paid for with Paypal and filing a claim is fast and easy. If you are confused about how to ship internationally, this tutorial will help.
Updated by Suzanne Wells on 7/30/17.