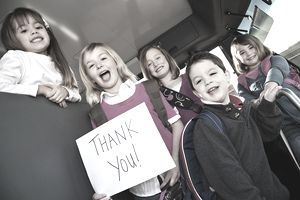 Donors give to your organization because they believe you are making a difference in a cause they care about.
Donors value your work and want to help you change the world. Their gifts are investments in the work they expect you to accomplish. They want results.
So results are the best way to show your appreciation for your donors. Most donors don't need plaques or trinkets.  For most donors, too much bling may cause them to question your spending priorities.
Donors want to see what their gifts helped you to accomplish. They love particular facts and stories of how they changed the lives of real people. That's how they know their investment paid off.
Donors want to hear about the women they helped shelter from domestic violence, the lonely senior citizens whose lives are brightened by your daily visits, or the inner-city children who were inspired by their first encounter with organic gardening at your community farm.
Tell your supporters, in person if you can, or through newsletters, email, and phone calls, how someone's life was changed by the programs they made possible.
In addition to stories, do not underestimate the power of facts and statistics. Share as much detail as you can about the progress you have made, the number of people you have reached, and the effectiveness of your work. Learn about SROI (social return on investment) and how to use it to illustrate the good that you do.
 

For instance, 
show the impact your orchestra program has on the math scores of the children you serve, 
the track record of your life skills program, 
the number of affordable houses you have built for struggling families,
or the percentage of the troubled teens who go on to graduate from college after participating in your mentoring program.
Instead of fancy baubles or plaques, find inexpensive and personal ways to thank your donors and connect them to your mission.
Think about gestures that mean so much more than the traditional ways of saying thanks. 
Have the students from one of your classrooms hand deliver a scroll of paper with their handprints and thank you messages; 
stop by with a rescued dog and pictures of the abused animals the donor helped rescue; 
or send a simple personal note from a staff member or volunteer with a signed photo of the grateful recipients of your organization's services.
Whether you have a complex research program, a public policy group, or a local health services clinic, there is a compelling way to honor your donors with the facts about what their money allowed you to do and the firsthand stories about the lives it changed.

By recognizing and reporting results back to your donors frequently and well, you make lasting friends. This deeper recognition of the difference they make is the thanks they want, and it will cause them to remain loyal to your organization for a lifetime and to keep asking, "How else can I help you?"