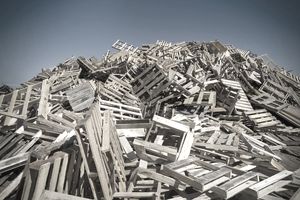 Wood pallet recycling encompasses hobbyist activity as well as commercial operations. It can include any number of wood pallet upcycling projects undertaken by crafters, more important from an economic perspective, the business of pallet recycling. Recycling is an increasingly significant component of the wood pallet industry. Creative hobbyists are limited only by their imagination when it comes to the range of wood pallet projects possible.
This article, however, focuses on the business opportunity of pallet recycling.
Background
Wood pallet recycling is a blanket term for the business of sorting, refurbishing, dismantling and remanufacturing of pallets for sale, as well as the grinding of wood pallets and pallet components for fiber products. Truth be told, the goal of pallet recyclers is only to recycle as a last resort. It is more profitable to sort, refurbish or rebuild pallets for resale. The most common pallet sizes are typically most attractive to recyclers. In the U.S., this would include the typical 48x40" pallet, as well as other popular sizes such as 40x40", 42x42", and 48x48".
Pallet recycling has become a rapidly growing segment of the pallet industry in recent decades. As perceptions have changed, pallet users have gradually become comfortable making use of reconditioned pallets, which are typically offered at a substantially lower price than new pallets of similar quality.
Additionally, pallet recyclers also perform a tremendous service to pallet users by removing empty pallets from accumulation points such as manufacturing plants and distribution centers.
Operations
Pallet recycling companies are often located in proximity to urban areas or other locations such as distribution centers or manufacturing plants where an excess of unwanted empty pallets accumulates.
Pallet recyclers may buy or otherwise acquire empty pallets or "cores," as the empty pallets are referred, from customers, or if they have little resale value because of unpopular size or other construction attributes, they may charge the client to take away the empty pallets. The value of the cores hinges on competition for them, and local sales prospects. Recycling companies may also purchase empty pallets from street vendors arriving with small truckloads of pallets they have accumulated from retail outlets or other small businesses.
Large recycling companies may operate their fleet of trailers, or utilize a transport company for inbound delivery. Arriving pallets are typically are sorted into different sizes and grades. Pallets may be sorted into:
popular sizes and grades for sale without repair,
repairable pallets,
pallets for dismantling,
unwanted pallets and components to be ground into wood fiber.
Pallet recyclers utilize a variety of pallet recycling equipment such as forklifts, automated sorting lines, pallet dismantling equipment, unstacking and stacking equipment, flippers, wood grinding systems and pneumatic nailing tools. Sophisticated pallet sorting lines may also use lift-assist equipment, and paint booths.
Marketing
Wood pallet recyclers often act in the secondary marketplace, buying, refurbishing and selling used pallets. Pallet recyclers may also perform pallet repair for specific customers, as well as other services such as retrieval of customer-owned pallets on behalf of those customers. Pallets are typically sold by the sales department of pallet recyclers, or through pallet brokers, which act as intermediaries between pallet users and pallet recyclers. Pallet recyclers also sell fiber products of various types generated from broken pallets, including raw fiber, as well as value-added offerings such as colored landscape mulch and wood pellets.
This introduction to wood pallet recycling is part of my Pallet Recycling Article Series. You can follow the link to read about other aspects of pallet recycling.