Why People Want to Work for Nonprofits
Work/Life Balance and Employee Benefits Rank High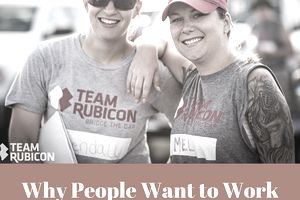 Are you looking for a job that promotes work/life balance, that treasures your contribution, and that is all about giving back? Then a nonprofit job might be just right for you.
I went looking for clues to why nonprofit jobs are popular and found them in the Best Nonprofits To Work For, published annually by the NonProfit Times.
Year after year, the key characteristics of highly ranked nonprofits remain remarkably consistent.
  I've compiled a list of the qualities that the employees of these nonprofits value about their organizations and the most attractive benefits.
Great Nonprofits Make Work Meaningful and Fun for Their Employees
How do they do that? By putting employees first. Nonprofit work is not easy so to avoid burnout and keep turnover low, the best employers focus on these fundamentals. 
Establishing an open and transparent corporate culture.
Being trustworthy.
Giving employees enough authority to do their jobs. 
Fostering a sense of mutual respect.
Building a sense of community and family among staff.
Helping employees experience the joy of helping others.
Communicating how each employee's contribution makes the work of the organization possible.
Providing opportunities to relax and socialize. 
Making the work environment competitive yet fun.
Encouraging work/family balance and making care for employees visible.
Appreciating employees who give extra effort to help the organization succeed.
Creating an environment that has a distinct personality or spirit that invigorates employees.
Encouraging new ideas, soliciting ideas, rewarding ideas.
Building a culture that emphasizes learning.
Great Nonprofits Offer Benefits That Employees Love
Great nonprofits don't skimp on benefits.
In fact, they are competitive with the private sector and even go beyond what is expected. They often offer:
Sabbaticals
Dental plans
Retirement plans such as 401(k) and 403(b).
Tuition reimbursement.
Onsite fitness facilities or help with memberships at outside facilities; on-site weight loss classes; walking clubs; free blood screenings and flu shots.
Healthcare insurance.
Life insurance.
Flexible scheduling of work hours; opportunities to work from home; carpooling services.
Family care time off.
In-house hiring and promotions.
Short and long-term disability programs.
Generous vacation time.
Bonuses that can be added to salary or used for professional resources.
How the Top Nonprofit Got There in 2016
In 2016, the top nonprofit on the NPT's Top 50 list was Team Rubicon. Team Rubicon is very small but has a big impact. It has only 44 employees but mobilizes thousands of veterans to respond quickly to disasters across in the US and abroad. That means earthquakes, tornadoes, flooding, and fires.
It's easy to see how rewarding working at Team Rubicon could be, but one thing stands out. That is the way employees are recognized for outstanding work. Public recognition comes often as awards ranging from "The Teddy," inspired by Teddy Roosevelt, to the more casual "Get Sh*t Done" award.
But that's not all that employees love about this organization.  A slick human resources system makes "on-boarding" paperless and plenty of socialization opportunities appeal to many types of employees.
Some other nonprofits that made the 2016 top 50 list include the American Heart Association, the Alzheimer's Association, DoSomething.org, Soles4Souls, and YearUp.
What Drives the Best Nonprofits to Be Loved by Their Employees
The researchers who determine the list of Best Nonprofit Employers each year for The NonProfit Times found that organizational excellence is driven by these ten things that employees say they like about where they work and what they do:
I feel valued 
I trust the leadership 
I like what I do
I believe I can make progress
I'm treated like a person, not a number
I like the people I work with 
I can advance 
I can trust this organization 
I make good use of my skills and abilities
I'm given the technology, equipment, and resources I need 
Check out the annual list of best nonprofits to work for. Some might be in your area. Even if they are not, the attributes that make these nonprofits attractive can serve as a guide for evaluating any nonprofit that you might consider as a future employer.