Why Does It Take the IRS So Long to Approve My Tax Exempt Application?
Is It Something You Diid?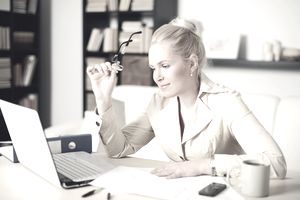 It would be easy to blame the IRS when it seems to take forever to receive your 501(c)(3) determination letter.
But, according to the IRS, your letter might be delayed because you provided incomplete information, or just forgot to pay the fee or paid the wrong fee.
The "determination letter" is the official notification that your organization is entitled to the federal tax exemption as a 501(c)(3) charity.
Why Is Tax Exemption So Important?
It allows your donors to claim a tax deduction on their tax returns, exempts your organization from paying federal corporate and income taxes and legitimizes your charity. For instance, most foundations will only make grants to 501(c)(3) nonprofits.
The time it takes to hear from the IRS about your tax-exempt status depends on which form you submitted.
Did You Submit Form 1023?
Most organizations filing for tax exemption must file Form 1023.
The IRS says that you should expect to hear from them within 180 days after submitting your application. The IRS goes over your application thoroughly, and if the information is incomplete, the agency may have to contact you. That will slow the process down considerably.
The best way to avoid a long wait time is to be prepared, understand the information you need, and then complete the application thoroughly.
Here are just some of the things you'll need to submit with this form:
Description of your activities. Explain what you do.
Articles of Incorporation. You developed this information when you incorporated.
Employer Identification number (EIN). Make sure you apply for this early. You'll need it for just about all the business you pursue.
Bylaws and Policies. The bylaws encompass the rules you've set up for running your nonprofit and governing it. 
Financial information, printed materials, and publications.
A fee of $400 or $850, depending on your average annual revenue.
Here's a tip:
Review the instructions for Form 1023 carefully. Filing 1023 is an arduous task, so consider hiring an attorney who specializes in nonprofit work to help you with your application. Alternatively, you could work with one of the companies that assist in this area.
If you want to check the status of your application, see the info on this IRS page.
Did You Submit 1023-EZ?
Form 1023-EZ is pretty new. But it was designed to help smaller organizations file for 501(c)(3) exemption more easily and quickly.
Some charities have received approval in as little as two weeks from the date of submittal. The IRS says that you should hear from them within 90 days after submitting your application. A 1023-EZ is submitted entirely online which speeds up the process considerably.
However, getting ready to submit your application can still take a lot of time. Here are some of the things you'll need to get together:
Articles of organization
Bylaws or other rules for operation
EIN
Plus, you must register an account at pay.gov and pay the registration fee of $400 with a credit or debit card.
Tip for easy submittal:
Make sure you are eligible to submit 1023-EZ with the Eligibility Worksheet. You can select the form through pay.gov and complete it online. You can save, close and return to the form as needed.
Preparation is the key to a smooth submission and quick approval (no matter which form you use).
As soon as you start thinking about setting up a charity, you should become familiar with what 501(c)(3) means and what it takes to qualify. Also get familiar with your state's incorporation laws. That way you can organize in a way that meets all the requirements for both incorporation and exempt status.
Although most charities find incorporation advantageous, your organization can become tax-exempt without incorporating by becoming an unincorporated nonprofit association.  Some very small nonprofits with a limited or temporary mission choose this route.
 Check out  What Is an Unincorporated Nonprofit Association? for the pros and cons.
Resources:
How to Start a Nonprofit, National Council of Nonprofits
501(c)(3) Mini-Guide, Harbor Compliance
How to Form a Nonprofit Corporation, Nolo Press (Buy from Amazon)
Back to FAQ's About Starting a Nonprofit Organization
Disclosure: I am not an attorney or an accountant. This article is just for informational purposes. It is not intended to be legal advice. Check other sources, such as the IRS, and consult with legal counsel or an accountant.