Young Urban Creative Millennials (Yuccies)
Is the obbsession with pleasing millennials finally over?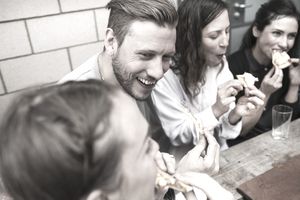 First came the Millennials. Then Hipsters. And Millennial hipsters. Now Yuccies — "the cultural offspring of yuppies and hipsters."
Following a Forrester report titled "The Kids Are Overrated: Don't Worry About The Millennials" — a call to stop panicking about what millennials (born between 1982 and 2001) want — came the widely shared 2015 Mashable article presenting the Yuccie: a "young urban creative class".
This grown-up hipster who lives for freedom, creativity, and the good things in life. Or more specifically, Yuccies are "a slice of Generation Y, borne of suburban comfort, indoctrinated with the transcendent power of education, and infected by the conviction that not only do we deserve to pursue our dreams; we should profit from them. "
That's pretty specific. These perhaps non-bearded, non-tattooed folks are as likely to use technology and have groceries delivered as their hipster breathren (or their former "hipster" selves).
A popular statistic of the Millennial-obsessed is that 10,000 Millennials turn 21 every day in America. (They'll drink to that! Wine rather than beer, that is.) Of course these folks are digital natives — "the only generation for which these new technologies are not something they've had to adapt to. Not surprisingly, they are the most avid users," a 2014 Pew Social Trends study points out.
Yet the New York Times published a great infographic chronicling Millennial Madness, highlighting that people of all ages and stations in life appreciate technology nowadays, as much as the next millennial.
Yuccies Eat Out
Self-described Yuccie David Infante states that his kind are really into eating out.
"We're a big part of the reason that 43% of every millennial food dollar is spent in restaurants, instead of at home...It's gotta be Instagrammed."
This generation also drinks more coffee than ever before (thanks to growing up in the age of Starbucks and / or the coffee-swilling Gilmore Girls). This infographic lays out just how dedicated to Starbucks, McDonald's and other chain restaurants millennials are (a Yuccie infographic has yet to hit the 'net).
So, Are Millennials Eating Out More As a Whole?
But wait! A study by The NPD Group revealed that at least certain Millennials decreased restaurant spending, to a not-so-paltry $96 billion. "Millennials say that they are cooking at home more often as many 'don't at all mind to do so,' and about half claim to like to cook."
Reasons for eating at home included the price of eating out and the ability to make more healthful, good food at home.
I'm willing to bet the convenience and compulsion to eat while on their phones or computers plays a part in this trend; you never know what to expect at a restaurant and the tension may be too much to take.
In other words, Whole Foods may be right on target with its new tech-centric, small format "convenience" stores that will likely compete more with Trader Joe's, which has mastered convenient, ready-to-eat foods.
In fact, many studies point to Millennials opting to grab food from convenience stories, which may explain why Walmart recently surprised itself upon discovering their brand — perhaps due to an increase in organic foods — is a top retail choice for Millennials.
5 Things Food Businesses Should Do
Every day it seems there is conflicting data about what Millennials want. The bottom line is that technology rules and consumers have differing desires and needs.
Keep focusing on a great customer experience, whether you have a restaurant, manufacture food, have a retail grocery or something in between:
Encourage social sharing and communication in your customer service strategy.
Be technology friendly, whether letting customers use their phones to pre-order or quickly find sustainable products with apps.
Offer really good food.
Create a customer experience that focuses on the experiential: sampling and transparent information. Ask customers what they want. This includes using interesting fundraising and crowdfunding techniques for your food business.
Know and communicate your brand upfront; if you don't want to do the above and your brand and business is more aligned with low-tech, old-fashioned values, so be it! Know who you want to attract to understand your business potential and if you're all set for success.
Bonus points: Create an element of spontaneous adventure, a quality that speaks to Millennials, according to a 2015 MSLGROUP / Hartman Group.
Part of the cry to end the Millennial fixation might stem from contradictory data and the fact that, as Styx said, "deep inside we're all the same."
Don't the 76 million Boomers and home-bound seniors need as much attention to their home eating needs as the 80 million Millennials and GenXers?