What You Need to Know About Charging HST in Ontario
When and How to Charge Ontario HST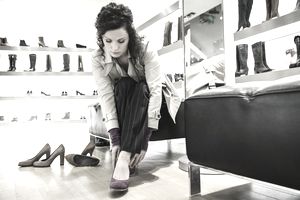 Like many other Canadian provinces, Ontario has moved from a provincial sales tax system (using PST/GST) to using a Harmonized Sales Tax (HST). Whether you're running a business elsewhere in Canada and shipping goods into the province or running a business in Ontario, here's what you need to know about charging HST in Ontario.
(And here are the PST, GST and HST Rates for All the Provinces and Territories in Canada in case you need them.)
The Ontario HST
The Harmonized Sales Tax (HST) replaced the existing provincial sales taxes and the federal goods and services tax (GST) in Ontario on July 1, 2010. The province's rational for implementing the HST was to streamline the sales tax system into "what is viewed as the most efficient form of taxation around the world".
The HST is applied on most supplies of goods and services made in Ontario at a rate of 13%, consisting of the 5% federal portion and an 8% provincial portion. (When you charge HST in Ontario, however, you don't break it down; you charge and show it on your invoices as a straight 13%.)
Several other provinces in Canada have also implemented the HST (at various rates), including New Brunswick, Nova Scotia, Newfoundland and Labrador, and Prince Edward Island. Some other provinces and territories (such as Alberta) do not have a provincial sales tax and charge GST only.
Others (such as British Columbia) charge GST + PST.
For most businesses the HST is an advantage in that combining the PST and GST into one tax allows them to reclaim the entire amount of sales tax. The single tax system can also reduce administrative overhead - unfortunately this is somewhat offset by the various exemptions and rebates as described below.
Do You Need to Register for HST?
New businesses will need to register for HST unless they are Small Suppliers and choose not to (see the next section).
The Small Supplier Exception
Ontario has a Small Supplier exception in place, so if you are operating a small business that makes $30,000 or less annually, you are not required to register for or collect Ontario HST. However, you may voluntarily register your small business. Registering your business for HST enables you to recover any HST paid out on business purchases or expenses (these are claimed as Input Tax Credits).
What's Exempt From HST
Consumers do not have to pay HST on exempt items such as the following:
Qualifying food and beverages - includes basic groceries. Does not include alcoholic beverages, soft drinks, candy, snack foods, etc.
Health, medical, and dental services provided by licensed practitioners (includes optometrists, chiropractors, physiotherapists, chiropodists, audiologists, speech-language pathologists, occupational therapists, psychologists, podiatrists, midwives, etc.)
Tutoring
Prescription drugs
Most financial services
See Point-of-sale exemptions and rebates for a complete list.
Point-of-Sale Rebates (Items Exempt from PST but not GST)
For items that were formerly exempt from Ontario provincial sales tax (but not GST) merchants must provide point-of-sale rebates of the 8% provincial part of the HST.
This includes items such as:
Children's clothing
Children's footwear (up to size 6)
Qualifying Prepared Food and Beverages sold for $4.00 or less
Books (including audio books)
Newspapers
Child Car Seats and Booster Seats
Feminine hygiene products
Diapers

Air travel originating in Ontario and terminating in the U.S.
Giving a point-of-sale rebate involves automatically crediting the provincial part of the HST and only collecting the 5% federal part of the HST payable on the sale of that item. Point-of-sale rebates will not affect your ability to claim Input Tax Credits on your business inputs.
Note that home insurance is subject to the provincial portion of the HST - the GST portion is exempt.
Charging HST
Generally, whether or not you charge HST on goods or services you provide depends on the place of supply.
Specific rules apply to determine whether a supply is made in or outside of a participating province.
While no changes were proposed to the existing place of supply rules for supplies of tangible personal property and real property, the place of supply rules for supplies of intangible personal property and for services changed considerably with the introduction of HST.
Follow these links for details:
Invoice Requirements
Just as with the GST, there are particular pieces of information you have to have on your invoices (and your receipts, contracts, or other business papers) to inform your customers how much tax they are being charged and so that they have the documentation they need to claim Input Tax Credits (ITCs). You can review what information is required in this Invoice Sample With HST or in the Canada Revenue Agency's RC4022: General Information for GST/HST Registrants.
Government Help
To know the details about how to tell when to charge HST or just GST, the Canada Revenue Agency's Harmonized Sales Tax: Place of supply rules for determining whether a supply is made in a province (GST/HST Technical Bulletin B-103) is especially useful. It explains how to apply HST to tangible and intangible personal property, real property and services and is studded with examples.
The Canada Revenue Agency's GST/HST for businesses presents much more information about the application of GST/HST.
See also:
Common Questions About the GST/HST
HST & Intangible Personal Property
GST/HST Zero-Rated vs. Exempt Goods and Services