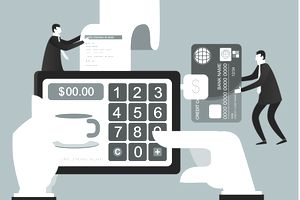 When you apply for credit, one of the key things a lender asks for is your social security number. This number is used to pull your credit report and credit scores so a lender can review your creditworthiness. Depending on your reports and scores a lender will decide if and how much credit they will extend to you and on what terms, if any.
While your social security number is directly tied to your personal credit reports/scores, another number identifies your business, its DUNS number.
The DUNS Number
For businesses, the global standard numbering system to identify all types of business organizations, such as corporations, non-profits, and government entities, is the D&B Number or DUNS number. The DUNS Number is a 9-digit number assigned to each business and was created by Dun and Bradstreet back in 1963.​
This number is used for each business and is directly tied to a company's credit profile listed in D&B's database. So when your business applies for credit with a lender, your business supplies the lender its DUNS number. With that, the lender can obtain and review your company's business credit report and rating.
It's important to note that the DUNS number is only used to identify your business from Dun and Bradstreet's database. There are other business credit agencies — Corporate Experian and Equifax Small Business among them — but none of these agencies share data with one another.
Each agency has its own unique database, company credit report, and scoring system.
How Do You Find Your DUNS Number?
Although Dun and Bradstreet has the world's largest commercial database of over 225 million records, not all businesses have a DUNS Number. D&B collects data from thousands of sources and puts it through a rigorous quality process before a company file and number is created.
However, if your business does not have a DUNS number it can obtain one for free (takes 30 days) or via paid service such as credit builder for faster delivery (5 business days). Prior to obtaining a DUNS number the first thing you should do is check to see if your company already has one issued.
To check whether or not your business has a DUNS Number you'll need to conduct a DUNS Lookup. You can also obtain free information about your business credit file using Dun & Bradstreet Credibility's CreditSignal.
Once you register for free, you can conduct a search to see whether or not your company is listed in its database. If it is, you will be able to view your D&B Number, review and update your existing credit file and, if necessary,  update financial information.
If your business is not listed, you will need to obtain a DUNS Number. You can either get your Number in less than 5 business days with their DUNSFILE service or you can obtain your number for free, which can take up to 30 days.
It is important to remember having a D&B Number does not mean your business has an established business credit report. It simply means your business has a listing with Dun and Bradstreet The listing can be coded as an incomplete file if no active trade lines are reporting.
D&B refers to this as a marketing file not a business credit report.
Once trade references get added to your file, D&B will compile the data into what we call a business credit report. It takes a minimum of three trade references for a company to generate a business credit score with Dun and Bradstreet. This business credit rating is known as the Paydex Score.
Your DUNS Number will be directly linked to your company's credit file and will play an important role in your company's search for credit and financing. With a DUNS Number and business credit report; lenders, suppliers, and creditors will now be better able to assess the creditworthiness of your business.