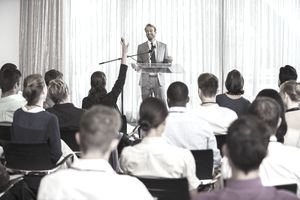 A seminar, sometimes referred to as a conference, is a commercial program where attendees are given information or training. It is usually held for groups of 10-50 individuals and is frequently held at a hotel meeting space, an academic institution, or within an office conference room. Some of the most popular kinds of seminars in business focus on personal development and business strategies. 
These are a few common types of seminars you might encounter in the business and academic worlds.
Personal Development Seminars
Designed for the training and enrichment of employees, personal development seminars are popular events for their discussions of psychology, philosophy, and other kinds of personal development. These seminars can take the form of retreats or intensive discussions, or can simply be used to train middle management or new employees in the country's core values or procedures.
Business Seminars
Business seminars appeal to entrepreneurs or small business owners. They share success stories, strategies, marketing, licensing and franchising, or other concerns. 
Academic Seminars
Sometimes an event planner will be called upon to execute a seminar in an academic setting. Less formal than a class lecture, a seminar allows for small groups to meet and discuss academic topics or required reading, as well as set goals for research and continuing investigation.
Seminar Planning Checklist
Follow these steps when planning your next seminar:
Confirm the event's purpose. Who is the audience? What are they expecting to learn?
Review the Apex Event Specifications Guide. The Convention Industry Council has established a series of tools that should be viewed as an excellent source of best practices that will help the event or meeting planner to keep track of the details for planning events.
Create an event profile. Once a planner has some of the basic questions around the event covered, it's time to research possible venues for the meeting.
Outline seminar needs.
Request venue proposals.
Confirm and/or Develop the Agenda. The event planner must be ready to adjust the plan and work closely with the venue to make sure everything runs smoothly.
Confirm the BEO Agreement. Once the planner knows the targeted number of attendees and logistic requirements for the seminar, he or she should secure the event space and related requirements.
Create event communications and material. Everything from event invitations to the agenda need to be printed.
Work closely with event host to finalize logistics. Make sure to confirm event speakers, event A/V requirements, event attendee count, host roles and responsibilities and event materials.
Allow enough time for the event setup. All event materials, handouts, signage, displays, gifts, registration tables, name badges and more must be ready for the event.
Be prepared for event execution. Anything can happen, from guests arriving early to many "no shows", so you need to be prepared.
Related Articles