What is a Retailer?
From brick-and-mortar to online, the types of retailers can vary.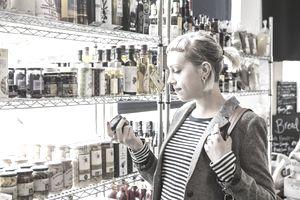 By definition, a retailer, or merchant, is an entity that sells goods such as closing or groceries or cars directly to consumers, through various distribution channels with the goal of earning a profit. That was a very "clinical" definition of a retailer indeed. So think of it this way, a retailer is a store that provides you with goods or services you need. This store can be a physical building or online.
In the case of large retailers like Wal-Mart and Target, the items they sell are purchased from a manufacturer or wholesaler and sold to the end user at a marked up price. That's usually where the retailer's profit comes from: That markup. 
But the term "retailer" doesn't just apply to large stores; another example of a retailer is the small family-operated pharmacy in your town or your local grocery store. 
In general, retailers don't manufacture the goods they sell. There are some exceptions to that rule, of course, but usually the retailer is just the final link in a supply chain that gets a product to a customer. The difference between retailers and wholesalers is that while retailers sell directly to consumers, wholesalers sell their goods to other businesses (i.e. retailers). 
There are four main categories of products sold by retailers. These include food, hard or durable goods (those products that are used over time, such as furniture or cars), soft goods, like clothing or footwear (which have shorter-term use and life spans) and arts, such as books, musical instruments or gifts.
Different Kinds of Retailers 
Stores with brick-and-mortar locations aren't the only kinds of retailers. One of the largest retailers in the world is Amazon, which sells its goods entirely online. With any online purchases, it's good to be careful about how and where you provide information such as credit card numbers or addresses.
Legitimate online retailers should use secure socket layer (SSL) encryption to protect customers' data. 
But the term "retailer" can be applied to less-traditional kinds of businesses, too. For example, an artisan who sells homemade jewelry at an art festival could also be considered a retailer, if she's selling her goods to consumers in order to earn a profit. 
​Retailers can also be service providers. For example, Best Buy sells consumer electronics. But their Geek Squad department in the middle of the store sells repair services for those products. 
​Here is a list of the typical retail formats or types:
Brick and Mortar (referring to a physical building) 
Online
Kiosk
Special Event (refers to shows like art or guns) 
Catalogue (refers to business conducted solely through a catalogue)
Pop up (temporary space in another store or at event or festival. Popular during Christmas time.) 
Today, a retailer needs to be omni-channel. Which means that they must sell in more than one format or "channel" to be successful. For example, even Amazon.com has now added physical stores. Today's customer likes to have multiple options to purchase from their favorite brand. In a recent study about the shopping habits and preferences of Gen Z consumers (ages 19 and younger), it was found that being able to interact with the products before buying is their number one concern.
All the more reason online only retailers have been opening physical stores.  
How to Become a Retailer
Before you start selling, make sure you have all the necessary documents, legal and otherwise, that are required. You'll need to get an Employer Identification Number (EIN), which is like a Social Security Number for your business. Most vendors with will require you to have an EIN before doing business with you. It's free to apply for an EIN, which you can do on the IRS website. This will mean you'll be responsible for a variety of taxes, so be clear on what your local and state taxes are, and get familiar with what you as a retailer will be expected to pay to the federal government as well. There is a lot of paperwork and reports to file as a retailer with your state, so make sure you are on top of it.
 Otherwise you will have some stiff fines and penalties. 
Retailers also need to have business licenses, which will be determined by the laws in your city or state. Check with your local government office to find out what you'll need. Local and state laws will also determine if you need a resale license, an industry-specific certificate, or a certificate of occupancy (for your brick-and-mortar stores). 
Retail is a mainstay of the American economy. It's been that way since our country's birth. And retailers are the ones who help connect consumers with the goods they want and need. Retail may the right career choice for you and a way you can live the "American dream" of owning your own business. But do your homework thoroughly first. Retail is much harder than you might think.