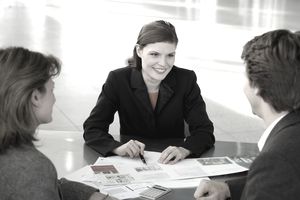 A real estate broker is a person licensed to negotiate and arrange real estate transactions. It would include writing contracts for listing and purchasing homes, land, and commercial properties. The broker is a higher level license than a real estate agent and would be authorized to hire real estate agents to work under the broker's supervision.
In some states, every licensed professional is licensed as a "broker," such as in Colorado and New Mexico.  Though you are licensed as an independent broker, there is another higher level license if you want to hire agents or other brokers that will work under you.  There can be a considerable risk if agents are not properly trained and supervised, particularly with regards to fair housing and environmental regulations.  Brokers who allow agents to make major mistakes can end up sharing in the penalties, both financial and legal.
When it comes to agents having their own websites, it is good practice for their supervising broker to check them from time to time to make sure there are no violations of regulations.
What Real Estate Brokers Do
I'm going to break this into three sections, one for how they work with real estate sellers, another for buyers, and the third for their duties and responsibilities in supervising agents under their license.
Brokers working for sellers:  While many times an agent working on a broker's behalf will take on these duties, the broker often handles transactions for sellers as well.  In some states, such as Colorado and New Mexico, all licensed individuals are "brokers," though only some are licensed to supervise agents.  Some of their duties on behalf of sellers include:

List homes for sale on the local, MLS, Multiple Listing Service.
Share the brokerage listings with other MLS broker members to get buyers to the property.
Share the listing commission with successful buyer brokers.
Advise the home seller in preparing their home for listing and showings.
Supervise showing, report to sellers results and feedback.
Submit any and all offers to the seller for consideration.
Help the seller to negotiate offers to try and execute a purchase contract with a buyer.
Work on the seller's behalf in coordinating the transaction process.
Deliver and explain documents, disclosures and transaction items.
Work with the seller through to the closing and their move-out from the home.
Brokers working with Buyers:  This is the other side, working with people wanting to buy a property with advice and services to help them to locate the property and complete the transaction.

Help buyers to locate all properties in their desired area in their price range and meeting their criteria.
Coordinate and help buyers to visit and view properties.
When a decision is made to attempt a purchase, help the buyer to craft their initial offer and purchase agreement.
Work with the buyer on their behalf in negotiations with the seller through their agent/broker.
Once a purchase contract is executed, coordinate the transaction process on the buyer side.
Deliver and explain documents in the transaction process.
Coordinate inspections, reports and repair negotiations.
Assist buyers through to closing and taking possession.
Supervising Agents:  When a broker is licensed to have agents working under them, sometimes called a supervising or managing broker, their agents handle most or all of the brokerage transactions.  With the supervision of agents the broker:

Verifies continued licensing of all brokerage agents.
Instructs and trains or provides training resources for agents.
Is responsible for agent behavior, performance, and legal compliance.
Provides some services and marketing resources for agents.
Often maintains a brokerage website for agent marketing.
Real estate brokers licensed at the highest state levels set the standards of practice in the area and are tasked with maintaining high levels of customer/client service and compliance with all state real estate laws.
There is considerable risk in the operation of a brokerage. However, to minimize risk, the broker must educate and constantly monitor their agents.  Many agents are happy to stay that way, but if you're ambitious, there is a great opportunity in being a real estate broker.