What Are Letters of Support, Commitment, and Memoranda of Agreement?
Here's How to Make Your Grant Proposal Even Stronger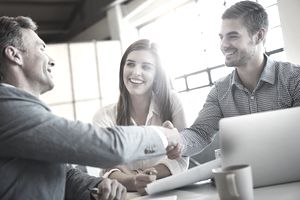 What Are Letters of Support? Why Do You Need Them?
You know that testimonials from other donors or the people your nonprofit serves can be powerful influencers when asking for funds. You include those testimonials in fundraising letters, in your case for support, and in your annual report.
Third party testimonials work just as effectively for grant proposals.  Those testimonials show that other people, businesses, and organizations believe that you can get the job done.
A letter of support can come from a partner organization, major donor, another foundation, congressional representative, business or other key stakeholders. It provides a compelling and persuasive reason why a funder should support your grant application or proposal.
While a letter of support won't clinch an award, it could make your grant proposal more competitive. Letters of support, especially from high-level individuals or organizations, show that others think your proposal has merit. They may even signal that your organization enjoys an excellent reputation and that your community supports your work.
A support letter might be from community leaders who believe in your proposed program, other groups that may collaborate with you, or even the people who will receive the services you propose.
The best letters of support describe how a partner will support the project (as applicable), conveys enthusiasm for the project, and lends credibility to your work.
Letters of support usually accompany a proposal or application for grant funds.
Before you submit a grant proposal, make a list of people or organizations that would benefit from your proposed project. Contact them, preferably in person, and ask if they would be willing to write a letter of support.
Give them the details of your project and explain the benefits to them and their community. If they agree, provide a draft of a letter that they can use. Ask them to send the letter to you by a particular date so that you can include it with your grant application.
If the person or organization would prefer to write their own letter of support, do give them vital information to make it easier to write a great recommendation  Examples of helpful information include:
A summary of the project the grant will fund.
How the project meshes with the interests of the funder (such as the foundation you have approached).
Examples of how the grant will help your organization fulfill its mission.
To whom the letter should be addressed.  For instance, a particular person or the official name of the funder. Encourage the writer to avoid something like "To whom it concerns." Provide a grant application number if that applies.
A sample of a previous letter of recommendation that worked well.
What Is a Letter of Commitment?
Letters of support can also be letters of commitment. Such a letter might show that a business wants to provide a gift-in-kind to support your project. Or that a donor plans to commit a specific amount of money to the project.
 Or it could even involve a pledge from a business to loan pro bono volunteers to your project. 
For this type of letter, make a list of businesses or organizations that might be willing to commit some resources to your project. 
Set up a meeting where you can explain in detail what the project will be and ask for a particular contribution, such as cash, gifts-in-kind, or personnel. Provide a draft letter and request that it be returned in time to include with your grant application.
Letters of support are frequently from other organizations that have agreed to be a partner for the project your group is offering. Sometimes this type of support letter takes the form of a formal partnership agreement or a memorandum of understanding that some grant makers now require.
What Is a Memorandum of Agreement?
If you plan to partner with another nonprofit, the arrangement must be spelled out in writing, either with a letter of support or what is called an interagency agreement or memorandum of agreement.
These agreements must explain how the project will be carried out, and how you'll use the funds from the grant maker.
The memorandum of agreement describes a cooperative relationship between two organizations. The agreement includes a description of roles, responsibilities, terms, and details of the partnership on which both parties agree.  It should be signed by authorized representatives of both organizations. Submit it with your proposal or application for a government or foundation grant.
The foundation or government agency that you apply to will be impressed by letters of support, commitment or partnership. The more you can demonstrate that the funder won't be alone in supporting your work, the better your proposal will be received.