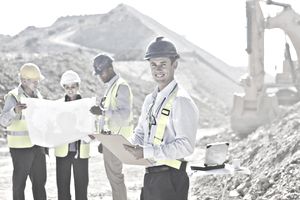 "Foreman" is a general term that refers to a specific kind of manager, most commonly in either the construction or manufacturing field. A foreman's job differs from other managerial positions in that foremen typically earn their way into their positions through years of on-the-job experience as opposed to education or formal training programs. Irrespective of the industry, a foreman is typically the key point of contact between the ranks of management and labor. 
Onsite Responsibilities
Construction foremen are responsible for supervising every aspect of a job. He or she often works directly with project architects and outside contractors and is responsible for inspecting the work to verify its overall quality. He or she must also be familiar with relevant building codes so that all completed work meets or, ideally, exceeds all requirements for quality and safety. 
A construction foreman must also have a strong ability to work with and supervise employees in order to ensure that crews begin work on time and finish within designated working hours to avoid overtime whenever possible. He or she is also responsible for security and safety on the job site. 
Since regulations governing specific projects are often very tight, many construction foremen find themselves required to amass knowledge and experience that goes beyond his or her trade. 
These regulations typically exist for insurance purposes and are required of construction crews, contractors, and sub-contractors by the property developers. The construction foreman has the burden of keeping all parties involved on the same page and ensuring that regulations are being followed to the letter.
Construction foremen certainly can pursue education in areas of project management and building services in lieu of real-world experience, and some do in order to advance their careers or to make themselves more marketable. Pursuing advanced education in either field adds formalized knowledge to the hands-on experience he or she is already getting working in the construction industry.
Offsite Responsibilities
Not all of a foreman's work is performed onsite. A construction foreman is also responsible for various types of office work. He or she is responsible for creating a work schedule to ensure that different parts of the job are completed in a specific order.
A good foreman is able to identify those areas of a project that are most at risk of dragging a project behind schedule and taking any necessary corrective action to ensure that the project stays on schedule and is completed by or ahead of its deadline. In certain situations, the construction foreman is also tasked with placing supply orders for the job site. He or she often reports to an architect, construction engineer, or project manager.
Supervisory Duties
A construction foreman's primary duties are managerial. He or she is responsible for training, directing, supervising, and, if necessary, disciplining the crews and workers throughout the project. The foreman is expected to monitor employee efforts, evaluate their progress, and provide workers with guidance and assistance to help increase efficiency. 
When there are grievances between employees or complaints related to the work environment, it is the foreman who acts as the liaison between labor and management. In union shops, the foreman needs to know and understand the contract terms so he or she can ensure that matters like assigning overtime or disciplinary action meet the requirements of the union.
Organizational Duties
A construction foreman performs various duties that are vital to the organizational efficiency of a work site. He or she must have the ability to read and follow sketches and blueprints and be savvy enough to make suggestions about changes whenever necessary. Construction foremen work with a private vendor and other outside departments and agencies to make sure every aspect of the project is covered and stays on schedule for completion. 
Administrative Duties
The construction foreman is also responsible for completing a broad range of paperwork. His or her job includes managing work scheduled and keeping track of employee attendance in a way that keeps the project running within budget. They also monitor inventory and place supply and material orders as required, all while adhering to project budgeting estimates. He or she is often also required to conduct worker evaluations and participate in the hiring process.
Teaching and Mentoring
A construction foreman is expected to be an expert in his or her industry. While most foreman positions are more management focused, a good one is also willing and able to perform hands-on work side-by-side with subordinates to ensure that the work gets done on time and within budget. He or she must also be willing and able to teach people how to execute tasks efficiently and correctly.