11 Easy and Inexpensive Ways to Thank Donors With Social Media
Is Social Media Part of Your Gratitude Program?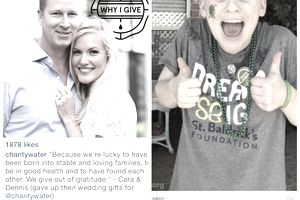 Do you simply have too many donors? Do you have throngs of generous people enthusiastically beating down your door, so much so that you have to turn them away? No? Well, you are not alone.
Nonprofits, in general, have a hard time acquiring and retaining longtime donors. Last year, charities lost 103 donors for every 100 gained. Moreover, with every $100 in new donations, charities lost $95 through lapsed or reduced gifts!
Considering that it is much cheaper to build a relationship with a current donor than to find a new one, nonprofits are losing money hand over fist through donor attrition. 
Donors make a decision to stay loyal to your organization and to give again based on three things:
They must receive a timely (read: immediate) and meaningful (read: not just a receipt) acknowledgement of their gift.
They must have an opportunity to assist a particular project rather than the "general operating" bucket.
They must understand the impact of their gift and what it helped to accomplish.
Do you provide all three of these things to your donors every single time they make a donation – and even when you are not asking for money?
Your donors want and need to hear from your organization frequently, and social media is a perfect way for you to stay top of mind while acknowledging their generosity and support.
Here are eleven low-cost and simple ways to use social media to thank donors and supporters.
1.  Share helpful resources.
The best long-term strategy to thank donors and to encourage them to stay a part of your nonprofit community is to share consistently practical, useful, and valuable information.
You can find this information by thoroughly understanding your donors and what makes them tick.
What interests them? What resonates? What sparks an action? What falls flat?
By connecting your donors to other resources that they may find valuable, sharing helpful information, and providing useful tips and content, you show your donors that you are listening and that you understand them. They will, in return engage with you on social media and share your posts with their networks – and make that next gift. 
Looking for a model? The American Red Cross consistently shares helpful, relevant tips on its Facebook page and blog.
2.  Answer donors' FAQs on Facebook.
Think about the most frequently asked questions that you receive from donors. Craft a short response to each question, add a great visual, and bam – you've got a Facebook post!
For extra credit, put the donor's name in the post and tag them (or their company) to build the relationship further (with their permission of course).
The NonProfit Times provides some examples of frequent questions that donors ask themselves about your organization, and ColoradoGives sets a good example of a useful Donor FAQ page.
3.  Showcase your donors.
On social media, you have a split second to capture a users' attention, as well as a limited amount of characters.
In any social media post targeted to donors, start with "Because of you" or "Thanks to your generosity."
Think about everything else you are competing with on social media – updates from friends, family members, colleagues, other nonprofits, businesses, news sites, and celebrities. Showcasing the generosity and passion of your donors will help you stand out in the cluttered news feed and encourage donors to share the post with their networks.
The charity: water #WhyIGive Instagram campaign is an excellent example of how to feature your donors' stories on social media. The nonprofit always includes a direct quote and clear photo of the donor(s), showcasing their particular story about why they give.
Project AWARE and Sport Diver Magazine choose a monthly #DebrisHero and feature their story and photo on their social media accounts.
These people may be donors, volunteers, or legislators who have demonstrated a commitment to keeping the oceans clean.
The St. Baldrick's Foundation does a fantastic job showcasing the stories of their most dedicated supporters and donors, the Shavees – the brave people who shave their head bald to raise money towards childhood cancer research:
4.  Retweet and repost your donors' content.
Make a Twitter list of your donors, corporate sponsors, funders, and major supporters. Also set up Google Alerts (free email news alerts) for this same list of people and their companies.
This way you can easily monitor their tweets, blog posts, and news stories and share their content on your social media channels. By showing that you are paying attention and acknowledging their other achievements – beyond just donating to your organization – you will build even better relationships with these donors. You'll also learn more about them, always an effective fundraising strategy.  
5.  Use key hashtags.
Two popular and much-loved hashtags that you can use when thanking donors on social media are #ThankfulThursday and #FollowFriday.
The Ellie Fund uses the #ThankfulThursday hashtag to bring attention to the generosity of their donors:
#FollowFriday can be used to showcase donors, foundations, and companies that support you and your work. Incorporating popular hashtags into your social media posts is an excellent way to get new people exposed to your organization.
6.  Make impromptu and spontaneous Thank You videos using Facebook Live and Instagram.
Facebook Live and Instagram are mobile apps that allow you to take videos and share them from any mobile device. Using just your smartphone, you and your staff or your volunteers can make a short, and sweet thank you video for donations as they come in.
7.  Provide exclusive access.
Offer your donors exclusive access to your Board Chair or ED through a live Google Hangout or webcast on Facebook.
Experiment with live streaming apps like Periscope or Meerkat and provide a live, behind-the-scenes look at an event or program.
The Gates Foundation uses live Facebook Q&As to give their supporters access to Bill Gates and to promote their work and mission. Darren Walker, the President of the Ford Foundation, recently held a special Facebook Live Q&A session to answer donor questions about their new focus on inequality.
8.  Demonstrate impact.
Showing your impact is by far the most important way you can use social media to thank donors. Tell them where their money went! Thank them for helping make the world a better place by sharing regular, meaningful updates on your clients, your work, and your impact.
Boston Children's Hospital frequently shares impactful posts on their Facebook page, often showcasing the story of a patient who was helped by the hospital.
Trees for the Future shares impact stories and colorful, eye-catching visuals that detail the work that they do in different parts of West Africa:
Alex's Lemonade Stand Foundation does an exemplary job of showcasing donors and their stories on social media, and the impact the organization has on particular children suffering from cancer:
9.  Make yourself accessible.
Donor churn can often be a result of poor customer service
The cure can be as easy as responding to questions and comments, whenever they come in. Do not shy away from debates and conversations on your social media channels – chime in where appropriate, or direct people offline to further address their concerns.
Create a transparent online culture where donors, and other members of your online community, can ask questions and voice opinions. Whatever you do, do not delete comments or questions (unless they are obscene or spam).
Responsiveness is now directly measured and reported right on you Facebook Page. How does your Facebook page measure up?
10.  Run a gratitude campaign.
Girls Inc. stages a "30 Days of Gratitude" campaign to thank their donors, using a multi-channel approach involving social media.
The Wellbody Alliance takes to their blog and social media channels twice per week in November to express gratitude not just for their donors, but for their employees, volunteers, and partners as well. Through visuals and graphics, Wellbody tells the story of the person or persons they feature.  
11.  Connect donors to each other.
Start an exclusive Facebook or LinkedIn group for your donors that they can opt-in to (or not, depending on their preferences).
Creating a group like this for donors who also fundraise on your behalf is especially gratifying since they can then share best practices, ideas, and give feedback on each other's campaigns. Donors are people too, and they have careers and professional interests of their own – helping them advance and build their networks is a fantastic way to give thanks.
A simple social media campaign also works well. NTEN hosts an annual Member Appreciation Month each November, complete with free programs, prizes, and other incentives, all to thank its members. They also encourage their partners and their members to express thanks to each other through the hashtag #NTENThanks.
It is important to note that social media channels are far from replacing up close and personal techniques like thanking donors face-to-face, phone calls, handwritten thank you notes and appreciation events.
However, it is worthwhile to start thinking about the different ways you can use online communities like Facebook and Twitter to further cement relationships with donors and to showcase the great work that you do every single day
Julia Campbell has staked out her claim to helping nonprofits spiff up their social media.