4 Building Demolition Methods
Implosion Is a Controlled Process for Demolishing Structures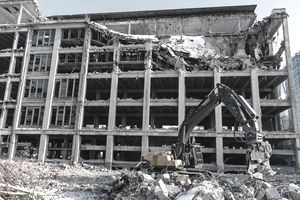 There are a couple of good options that can be considered for building demolition. The process is dependent on some factors like the area where the building is located, the building material, the purpose of the demolition and the way that debris is going to be disposed of. In this article, we summarize four methods used for building and structure demolition.
What is An Implosion?
Implosion is a violent bursting inward that allows the sequential elimination of structure supports.
Enough explosives are used to eliminate the critical vertical structural supports. The placement of the charges and the sequential detonation timing is if vital importance, allowing the collapse of the building induced by the weight of the structure. Implosion demolition methods are used in urban areas and often involve large structures with control methods of demolition.
For a successful demolition, a complete set of structural blueprints must be analyzed to study the main component of such building. Another important step is to have the blaster crew complete an assessment of the structure of the buildings to identify other areas that need to be blasted, in addition to the ones identified on the blueprints. As a final step is important to decide the type of explosives to use, where to position them in the building and how to time their detonations.
Building Demolition: High Reach Arm
High reach arm is another traditional method of demolition.
The threshold for defining a high reach demolition is when it reaches a height of more than 20 meters. This method is usually formed by a base machine (excavator, tank, engine, counterweights), a demolition arm consisting of three sections or by a telescopic boom and a primary tool attached to the base machine (crushers, shears, hammers).
High reach demolition machines can be equipped with different tools to make them suitable for executing demolitions of structures. This method is used on reinforced concrete, masonry, steel and mixed material structures. The equipment used for this type of demolition is not the same one as the one used to separate or crush the rest of the material. The following factors might affect the proposed demolition process using this type of technology:
Structure height
Site conditions
Structure shape, and
Structure location
Demolition Method: Crane & Ball
One of the oldest and most used methods for building demolition, the ball and crane use a wrecking ball weighing up to 13,500 pounds to demolish concrete and masonry structures. During the process, the ball is either dropped onto or swung into the structure that is to be demolished. The ball and crane, however, is unsuitable for all demolition applications. Some limitations:
Additional work removing rebar in concrete structures is needed.
Only highly skilled and experienced crane operators should be used on ball and crane demolition
Smoothness in controlling the swing of the ball is CRITICAL since missing the target may tip or overload the crane.
The size of the building that can be demolished with this method is limited by crane size and working room, including proximity to power lines.
This form of demolition creates a great deal of dust, vibrations and noise.
When a Selective Demolition is the Only Option
Also known as strip-out, this process is very popular right now. As recycling and salvaging of material are very attractive to builders during these days, allowing them to re-use material or recycle it. Selective interior/exterior demolition or recycling of wood, brick, metals and concrete are all recycled for future use in new structures blending the old with the new. This demolition process is not limited to removal of interior equipment, walls, floor, ceilings and exterior components. The main purpose of this method is to recover the maximum amount of primarily reusable and secondary recyclable material in a safe and cost-effective procedure. Although it is a labor intensive process and can be very difficult to achieve in a timely and economical manner for light framed buildings.
Actual Cost of Building Demolition
If you are asked on how much will charge for a demolition of a building, start first by completing a site assessment. You will need to determine the type of building being demolished, the logistics, site clearances, environmental hazards and what to do with the debris generated by the process. Also, it is important to consider the cost to haul the material, tipping fees, and the landfill cost. In general, the following numbers can be used as a starting point when estimating the demolition cost:
House Demolition $5.50 per square foot (Typical Range: $4.00 - $6.75)
Concrete Sawing, Demolition or Removal: $5.25 per square foot on a typical 4-inch, although it can range between $3.25 up to $7.25
Be sure to complete all permits requirements, environmental studies and sound studies required in certain jurisdictions.