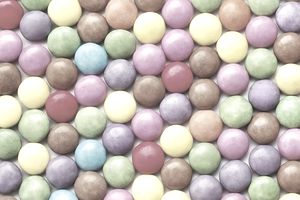 The annual Sweets & Snacks Expo show connects around 16,000 confectionery and snack buyers, merchandisers and retail executives with companies that manufacture the majority of candy and snacks in the U.S. market, as well as international brands.
Chocolate, candy, cookies and savory snack products from 630 companies span four acres of floor space at Chicago's McCormick Place.
4 Key 2015 Candy Flavor Trends
From products submitted for NCA's Most Innovative New Product Awards and displayed in the New Product Showcase, the National Confectioners Association (NCA) observed the following sweet trends:
Breakfast as Candy
Breakfast is inspiring candy and sweets such as yogurt snacks, waffles, and flavors from peaches and cream to bacon.
Maple and maple syrup-flavored candies and snacks are big too. For example, on National Jelly Bean Day, which is April 22nd, Jelly Belly launched a new Pancake, and Maple Syrup flavored jelly bean with the tagline "The best part of breakfast, now perfect for any time of day."
Candy Flavors Inspired by Nostalgic Foods
Classic flavors inspired by retro childhood memories are showing up in candies and snacks, such as fountain soda, pies, s'mores, birthday cake, and lemonade.
Starting at the Winter 2015 Fancy Food Show, marshmallows began to rise (it's about time!) along with cinnamon and peppermint, a trend that NCA's Vice President of Public Relations, Susan Whiteside noticed at the Sweets & Snacks Expo as well.
Fruit Flavors Top the Trends
As we've seen across food product categories, fruit flavors are growing.
Evergreen flavors like orange, apple, and cherry, candy are now joined by more variety-specific flavor profiles such as Meyer lemon, blood orange, wine grapes and golden delicious apples. The use of real fruit in snacks and candy is hot and likely here to stay as well.
For example, Torie & Howard rolled out a Meyer Lemon & Raspberry flavor of their portable organic hard candy.
Baobab — an African superfruit — is really trending this year. Take special note of Bonga Foods, a playful brand with healthful superfood gummies with kid-appeal as a gummy candy alternative.
DIY Dessert Decorations and Candy Making
Whiteside mentions that products to make, dip, spread or decorate yourself are growing in popularity. Automation for customizing your own confections on demand and 3-D printers that can produce elaborate sugar candies and chocolates are adding intrigue to the candy category with each show.
Quick Facts On U.S. Candy Consumption
NCA President & CEO, John H. Downs, Jr. dishes a few fun stats on where we stand with our candy habits:
About 123 million U.S. households purchase chocolate, non-chocolate candy, gum or mints annually. (Says the author: This seems low!)
Confectionery is a mere 2 percent of the average American's caloric intake; however in Utah candy consumption is double the national average. (Says the author: I think my See's habit is skewing the average.)
Most of us eat candy twice a week, averaging less than 50 calories per day from confectionery items, according to Downs. (Says the author: If we eat candy 2x/week that's 350 calories a week or 175 calories per serving. Less than most candy bars. Hmm.)
The candy industry produces about $35 billion in retail sales annually in the U.S. (Says the author: What's good for the economy is good for us. In moderation.)