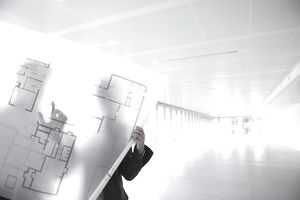 Basically, there's no difference between tenant improvements ("TI,") "leasehold improvements," and "build-out" in a commercial business lease. It just depends on what industry you are in or who is looking at the issue. All three terms mean work that is done to an office or building to prepare it for the needs of a new tenant. 
The term TI or "tenant improvements" (used by commercial realtors) can also be expressed from an accounting viewpoint as "leasehold improvements," and from a construction viewpoint as "build-out." I have heard different professions use these terms; leasing companies and property management companies and commercial Realtors talk about TI or build-out; accountants talk about leasehold improvements
For the purposes of this article, I will use the term "leasehold improvements," because that's the term used most often in business accounting, record keeping, and taxes. 
Leasehold Improvements and Business Startup
TIP: Whatever someone calls it, be aware that you will need to make these changes, and pay for them, as you start your business. To keep your startup costs low, look for commercial space that doesn't need a lot of work, or find a place where the landlord will let you do a lot of the work yourself.
A young couple, Mario and Eleanora, are considering leasing an office for their chiropractic practice.  It used to be the office of a massage therapist, so it probably doesn't need much work - just some paint, one wall torn out, and a little electrical work. Some offices they looked at, though, needed a lot of work:  tearing down and moving walls, electrical, plumbing, HVAC (heating, ventilation, air conditioning), disability access changes, and more.
The money they pay to have the office redone to fit their needs is considered leasehold improvements.  
What are Leasehold Improvements?
Leasehold Improvements (sometimes referred to as "build-outs") are the structural changes you make to leased space to make it suitable for your business needs. For example, lighting changes, a reception area, offices, dressing rooms, and other special rooms or partitions might be needed, as well as paint and carpeting/flooring. These costs may be paid by the landlord (and included in your monthly rent) or you may be able to make some changes yourself and save money.
Accounting for Leasehold Improvements
From an accounting standpoint, the work that is done to a building and the fixtures that are put in place and attached to the property (lights and plumbing, for example) are considered assets of your business, since you pay for them.  You get to depreciate them and treat them in every way like other assets; you just can't sell them unless you sell the building.
The Problem with Leasehold Improvements
Spending too much on leasehold improvements in a common mistake made by new business owners. Be wary of putting too much money into leasehold improvements for a leased business space. You can't take them with you. The next person to rent that space may not want the same things you do.
For example, if you have a retail space and add a fancy front desk for taking credit cards, the money you have spent on that front desk is not recoverable, from a cost standpoint. I guess you could pull it out, but you can't pull out lights and wiring and bathrooms.