7 Keys to Thrive as a Solopreneur in a Fast-Paced Business World
If You Want to Be a Solopreneur, It's Going to Take Hustle.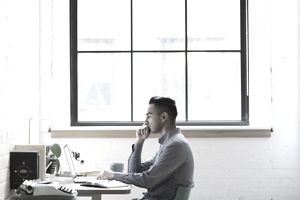 Over the last decade, the term solopreneur has risen to prominence as the number of entrepreneurs chasing their dreams has grown rather significantly. But don't confuse the commonality of solopreneurship with simplicity.
Surviving (and thriving) as a solopreneur is challenging. Even in today's business-friendly climate, the chances of being successful as a solo entrepreneur can be pretty low — unless you approach it the right way.
As tough as it is to excel as a solopreneur, the opportunity is still there. And for those that do make it as a solopreneur, the reward can be incredibly lucrative. The question is, do you have what it takes?
The Rise of the Solopreneur
According to a new 2017 report, there are 41 million Americans building their own businesses and taking their careers into their own hands. As workforce expert Andrea Durkin points out, "The 'Solopreneur' is now in the mainstream, representing more than one-third of the American workforce. There's no stereotype. Independent workers are spread almost evenly across generations, gender, and geographies from cities to suburbs to small towns and rural America."
What's even more encouraging is that 3.2 million solopreneurs are reportedly generating six and seven-figure incomes. Collectively, independent entrepreneurs have generated more than $1.2 trillion for the U.S. economy over the past year, while 17 percent of this workforce has exported goods or services to customers in other countries.
That's a hugely positive impact solopreneurs are having on the growth of the U.S. economy.
"For the most part, solopreneurs and side-giggers choose to work independently," Durkin notes. "But around 24% report that factors beyond their control such as layoffs, downsizing, illness or other circumstances precipitated this approach to earning income.
Another dynamic is wage stagnation in full-time jobs. Part-time independents might be side-gigging to keep up with inflation and higher costs."
Of the 41 million solopreneurs, the 2017 report notes that 16.2 million are full-time, 11.8 million are part-time, and 12.9 million merely consider themselves side hustlers. Over the next two to three years, another 28 million American workers will consider going out on their own and venturing into the realm of becoming a solopreneur.
7 Keys to Becoming a Successful Solopreneur
For the sake of this article, let's set a $100,000 annual income as the marker for what makes a solopreneur successful. That's obviously a very arbitrary number that many readers will find too low or too high, but it's a good starting point.
Using the data points already highlighted — 41 million independent workers and 3.2 million making $100,000 or more — that means the true success rate for solopreneurs is just under 8 percent. The pessimistic person would say you have a 92 percent chance of failing, but that's not really the full picture.
Clearly, the statistics aren't necessarily in your favor. However, as millions have shown, it's possible to be wildly successful — and ensure that the statistics don't really apply to you.
If you study the 8 percent, you'll find that they all possess some consistent habits, traits, and principles.
1. Find Support and Accountability
The term solopreneur is a little misleading. It implies that the individual is doing everything on their own when, actually, successful solopreneurs rely heavily on others. They may not have official business partners or employees, but they certainly aren't doing it on their own.
If you want to be successful and accomplish the objectives you've set for yourself, you'll need other people who can hold you accountable. This might look like a mentor, business coach, or friend who is a small business owner.
A support person, in this case, should be someone who isn't afraid to tell you the tough truth when you need to hear it. While there will be times for them to provide encouragement, sometimes their purpose is to kick you in the butt and tell you that you're doing something wrong, falling behind on a project, or losing sight of your goals.
There's value in both types of feedback.
2. Take Care of Your Personal Needs
You can't be successful — at least for any extended period of time — if you're ignoring your personal needs at the expense of growing your business. In other words, a failure to care for yourself will inhibit you from caring for your business.
Everyone has their own unique needs, but there are a few things that apply across the board. One such thing is sleep. If you aren't getting an adequate amount of quality sleep, your performance will suffer — there are no exceptions.
"When you sleep your mind is actually at work (in a different way), helping you store memories and making your mind sharper and more powerful," says Joe Auer, the solopreneur and founder behind Mattress Clarity. "This process is called consolidation, and though not perfectly understood just yet, the evidence is very clear that the link between memory and sleep is very strong."
If you aren't getting the right sleep — and nutrition and exercise, for that matter — your body will gradually shut down and your business will follow suit.
3. Build Your Personal Brand
As a solopreneur, you're essentially a brand. Sure, you may have a product or service that you sell, but you are the face of the business. This is why personal branding is such an important requirement.
Today, personal branding takes place almost exclusively online. Not only do you need a website and some SEO optimization, but you also need a strong and convincing social media presence on platforms like Facebook, Twitter, Instagram, and LinkedIn.
Authenticity is the key when it comes to personal branding. Don't try to be someone you're not. It'll water down your image and come back to haunt you in the future. People crave authenticity in today's world and a brand built on genuine principles will perform far better than a brand that was artificially formulated in a boardroom.
4. Learn to Crush Your Morning Routine
Do you have a morning routine? Well, you need one. Even if you aren't an early bird, a morning routine is highly beneficial and sets the tone for the remainder of your day.
Interestingly, your morning routine doesn't need to have much to do with your business. It's simply a constructive ordering of activities and processes that helps you feel accomplished and gets you in the right frame of mind.
Take Sarah Morgan, an Emmy Award-winning digital strategist, as an example. Her morning routine consists of getting up around the same time, getting dressed, walking the dog, feeding the dog, making breakfast, and either going to the gym for a workout, reading, or consuming motivational content.
"Once I sit down to work, everything that needs to be done in the morning is finished and I'm ready to put on my solopreneur hat and get down to business," Morgan explains. "I'm able to stay focused and work for a few hours without jumping up because I forgot to give the dog his medication or taking longer to start because I can't decide what to eat or wear."
5. Set Aside an Emergency Fund
The life of a solopreneur — especially one who is just starting out — can feel a lot like a roller coaster ride. One month it's up and the next month it's a free-fall down. Emotionally, this can be draining. Financially, it can be catastrophic.
You don't have the luxury of living paycheck to paycheck as a solopreneur, if for no other reason than you might not have a paycheck one month. This is why it's so important that you build up an emergency fund.
Your emergency fund will be unique to you, but it's wise to keep at least three to six months of expenses stashed away in a highly liquid savings account. Thus, if your bare minimum expenses are $3,000 per month, you need somewhere between $9,000 and $18,000 tucked away for a rainy day.
6. Know When to Outsource
As mentioned earlier, the term solopreneur isn't really the best to describe what it's like running a business as a solo entrepreneur. If you study the numbers, you'll notice that many independent workers rely on outsourcing certain tasks and responsibilities.
According to one study of entrepreneurs, 42 percent say they have an excellent relationship with an accountant. (For perspective, just 27 percent of those with failed business ventures reported the same thing.) Additionally, 58 percent of successful entrepreneurs use software to manage finances, while just 14 percent of failed business owners do the same.
Clearly, there's value in knowing when to outsource certain tasks, versus handling everything on your own. Identifying these opportunities will increase your chances of being successful.
7. Hope for the Best, But Plan for the Worst
You need to be prepared for the storms that will inevitably pop up from time to time. While a personal emergency fund is part of it, you also need to give your business a strong defense and generous safety net.
Practically speaking — at least in terms of the cyber landscape — you should invest in a cloud backup solution that protects your data and prevents you from losing everything in a cyber attack.
It's also a good idea to have a plan for your business, should something happen to you. As entrepreneur Sarita Harbour explains, "This may be a peer — like another professional in your field — or even a knowledgeable family member. Making arrangements for an alternate authority can also keep your business running in the event you suffer a health emergency."
It's not fun to think about cyber attacks, natural disasters, and health crises, but these are important topics. They all have the potential to negatively impact your business — you can't afford to let them.
Utilize the Resources in Front of You
Never before in the history of the world have solopreneurs had so many different resources available to them at the touch of a button or swipe of a finger. While competition might be fierce in your niche, the tools and technologies you need to be successful are just waiting to be used.
Are you willing to put forth the effort that's required?