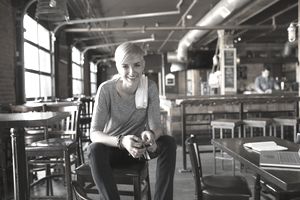 As a restaurant owner, your job description is endless- server, busser, chef, accountant, host, sales rep, buyer, bookkeeper, groundskeeper, dishwasher if the person you just hired doesn't show up for their Friday night shift…You get the idea? While there are many areas that restaurant owners are responsible for, I selected three broad categories that, as a restaurant owner you should be focusing on, every day.
Managing Your Restaurant Staff
Even a small restaurant can have a diverse staff with many different types of personalities all working together under one roof. Managing the front of the house and the back of the house, smoothing out conflicts and dealing with all the other issues that arise with your restaurant staff is not always easy. Learning to communicate clearly with staff your expectations and setting ground rules and disciplinary actions (not fun, but sometimes necessary) will help keep day-to-day life at your restaurant running smoothly. An employee manual can be very helpful for new staff learning the ropes of your restaurant. An employee manual outlines areas such as job descriptions, restaurant policies, dress code, code of conduct. Read more about how to write your own restaurant employee manual.
Restaurants owners usually tend to be hardworking people (otherwise, they would never want to open their own restaurant).
However, sometimes this hard work ethic can be a hindrance when a restaurant tries to do everything himself. Learning to delegate less important tasks will save you a lot of time, which you can then devout to other areas of managing your restaurant. There are a million tasks that need to be done around a restaurant, at any given time, from cleaning out the bar fridges to changing the menu boards outside.
And sometimes as an owner, you adopt the attitude of its just quicker to do it myself. While this is true, it can turn into a major time suck, and your time is money.  
Managing Your Restaurant Finances
Depending on how savvy you are with numbers, managing your restaurant finances can be a big job. Some restaurants employ bookkeepers and/or accountants to keep their books. In others restaurants, the owner does everything. A good rule of thumb, if you aren't comfortable doing your own personal taxes, you should not attempt to manage your restaurant finances by yourself. Hiring a bookkeeper, even one that comes in just once or twice a week, can help reduce your workload and more importantly, make sure your restaurant is in the black. Even if numbers aren't your strong point, you should always know what's going on with your books. Ask for a daily or weekly review from your bookkeeper. Know what checks are being written and to whom. If your kitchen staff does the ordering for the weekly delivery, they should not have carte blank with your checkbook. You have a budget to stick with and you need to make sure that your staff knows how much they can spend as well.
By keeping track of your finances you can hopefully spot problems early on, before they spiral out of control.
You can also make sure that no one is stealing from you. It isn't a pleasant thought, especially if you have a good working staff, but unfortunately it does happen.
Managing Your Restaurant Public Relations
This area of managing a restaurant is often last on the list of things to do. However, it is just as important as managing your staff or your finances. Public relations is more than advertising, it's dealing with customers (both happy and unhappy); it's keeping up with social media to reach new customers; it is creating fresh specials and menus that will keep customers coming back.
The restaurant industry took a huge hit during the recession. And while officially the US might be recovering, the restaurant boom of the nineties and early 2000s isn't likely to come around again anytime soon.
So promoting your restaurant as the best value for customers is important. Note that value doesn't mean cheapest, but rather making the customer feel like their meal at your establishment was money well spent. 
As a restaurant owner, keeping an eye on your staff, your finances and your restaurant's reputations are the most important aspects of running a successful business.