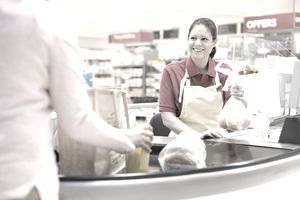 The job function of a cashier is to receive and disburse money and process debit card, or both, and credit card transactions. This may include transactions with the general public, as well as transactions with employees. Some auditing mechanism must be in place to ensure the integrity of the transactions processed. Also, experience with a cash register, credit card terminal, scanner or related cash or money handling technology is necessary.
Cashiers in a Small Office
In a small office, this job is usually not large enough to require a full-time position. 
The responsibilities of the cashier will be part of a clerk, secretary or customer service representatives duties. It is important to note that if the responsibility for handling cash or electronic forms of payment is performed in addition to other office duties, then this task must be separate from the person who is responsible for balancing the books. This is necessary in order to maintain good accounting checks and balances.
Cashiers in a Medium Office
This may or may not be part of another person's job description. It is mostly dependent upon the volume of cash and card transactions that must be completed on a daily basis. Separation of duties is also required here to maintain good accounting checks and balances. A good example of this type of cashier's duties is in a service business where the cashier is also the person that has a function similar to a receptionist. In this example, the cashier is the greeter as well as the individual responsible for handling the cash and credit card transactions.
In some cases, as in a membership-based service business, the cashier's role is expanded into a sales role where a portion of their compensation depends on the sales of a monthly or annual membership.  This type of cashier function is typical at membership-based Gyms or Spas.  Here is a sample job description.
Cashiers in a Large Office
In a large office, there is almost always a person that is solely responsible for handling all cash and card transactions. The most logical place to locate this office job is in the business office or accounting department. In a large office, this job is a dedicated function where the volume of the transactions provides them with enough work to justify this role being their primary and only job function.
Finally, being a cashier can mean different things in different environments.  A cashier in a law office will have a vastly different role than a cashier at a fast food franchise.  Similarly, the membership-based cashier job duties will be quite different than a person that scans items in a supermarket or department store.  Be certain that the job description that you are using to attract cashiers is tailored to the primary job functions.  Where cashiers are concerned, one size does not fit all.