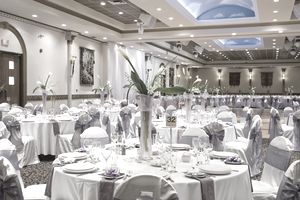 You want to become a successful wedding planner and a business owner. Your goal is to lead your own independent lifestyle while spending your time on work that you find creative and delivers a livable salary. So what will it take to get there in the growing wedding industry?
Starting a wedding planning business takes the same sweat equity as building any other service business, but with its own special considerations.
And what does that mean? It means that a potential independent wedding planner must be ready to put in the hard work and hours to build a sustainable business both in terms of profit and in terms of pure man hours. A potential wedding planner and business owner must first understand the realities of the business they are about to break into. Who better to learn from than a certified wedding planner and business owner herself? Meet Marsha Ballard, former president and secretary for the American Association of Certified Wedding Planners (AACW) and owner of Stardust Celebrations Corporation in Dallas, Texas. Ballard will take us through some of the realities of the wedding planning industry for aspiring wedding planners.
Lifting the Veil on the Wedding Planning Industry
Understanding the realities of the wedding planning industry begins with realizing that running your own independent wedding planning business is not glamorous, but it is fun - for the right person.
"In reality, the work is physically and mentally demanding," explains Marsha Ballard. "Think about planning 12 to 20 weddings every year."
Are you thinking that 12 to 20 weddings each year doesn't sound too bad? Let's think about that in terms of workload, hours, and pay.
Independent Wedding Planner Work, Hours, and Pay
The independent wedding planner serves as the person who must bring together and serve as the point of coordination for all of the required professionals to execute the wedding event.
That includes having ongoing and working relationships with people like the venue manager(s), the catering manager, musicians and/or DJs, ceremony officiant, florists, photographers, furniture and linen rental companies, and, of course, the bride and groom (and perhaps their respective families, too).
It's no surprise that the hours to do this can be long. "Most of the time the wedding planner functions as the promoter, the sales person, the secretary and then the person who directs the wedding and reception," Ballard adds.
So what's the financial payoff for a wedding planner?
"To make over $50,000 each year, expect to work about 50 to 60 hours each week," Ballard advises, "To make $100,000 each year, expect to work seven days a week and 80 hours each week." Many of these hours are worked well outside of the corporate Monday through Friday, 9AM to 5PM. In fact, much of a wedding planner's work will take place in the evenings and weekends when clients are free to meet and the events are underway. Certain seasons also tend to be busier than others, but that doesn't usually translate into several weeks off in the slow season. These hours also aren't corporate desk job hours. Many are spent on the phone, traveling around to and from meetings, and on the day of the actual event, it can mean 10-15 hours on your feet making sure that everything is running smoothly.
Ballard goes on to say that in practice, even these numbers don't always hold up. "In reality, most wedding planners seriously underbid the work and make about $30,000 to $40,000 each year. Additionally, most wedding planners must hire assistants to help them, which ultimately reduces the personal income of the wedding planner," she says.
Running a Wedding Planning Business
Let us also not forget that being an independent wedding planner also means running your own business. Aside from the basics of having the correct business licenses and insurance, independent wedding planners are also solely responsible for marketing their business and advertising determining pricing and selling their services, invoicing and billing clients, attending networking events and maintaining business relationships, acting as bookkeeper, and so much more.
Add to that the work associated with hiring a staff for a growing business and running the business becomes as much a full-time job as planning the weddings! Most independent wedding planning business are also not profitable for the first two to four years as it generally takes that long to get set up and build the reputation and clientele to bill enough work to pay off your original start-up investments. Still interested? Read on.
The Right Personality for the Job
For the person with the right skills who enjoys organizing detailed logistics, negotiating with many different parties, and having a personal relationship with the client, this job can be the perfect match. When it comes to providing a service, many times the interaction with the client is just as important as the wedding coordination and planning tasks themselves. Being a wedding planner is very much a balancing act between being the person in charge behind the scenes and acting as support, emotional and otherwise, for the engaged couple throughout the process. A wedding planner must not only be highly organized, efficient, and calmly confident, but he or she must also be capable of managing client's needs, wants, and expectations - and they will be different with each couple and each wedding. Does this still sound like a dream job to you? If so, you just might be the right person for the job!
More About Marsha Ballard and the AACWP
AACWP (the American Association of Certified Wedding Planners) was founded in 2006 by seven Dallas wedding planners, and has expanded to include the central region of the country – and intends to serve as a national voice for wedding planning certification and expertise.
Ballard, a registered nurse who also holds an MBA, started her firm with her lifelong friend and colleague Jenny Cline after leaving a career in health care management. Established in 2001, Stardust Celebrations Corporation, Dallas, owns two bridal Salons, employs about 40, and serves as wedding planner for more than 20 weddings each year.