The Ins and Outs to Contract Manufacturing
How contract manufacturing can be a boon for cross-border business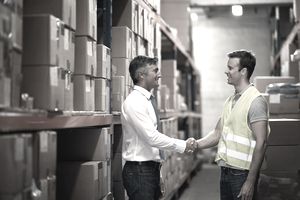 Years ago while I was working at a small manufacturing company, we contracted the manufacturing of a highly specialized crystal chandelier cleaner (shown at right and refer to No. 6). Back then, that's what you called it when you farmed out your production. Now, it tends to be referred to as outsourcing if it involves a business function, especially if it's done across borders. Let's take a look at what contract manufacturing is and what it can do for your import/export business.
Contract manufacturing is when a company arranges to have a local or overseas manufacturer make all or part of the product. Typically the hiring firm provides a design or formula to the contract manufacturer to replicate or improve. The selling and marketing of the product is left to the hiring company unless other arrangements have been made.
A Contract Manufacturing Success Story
In the early eighties, when I worked at the small manufacturing company, we contracted out the manufacturing of all our specialty cleaning products to a local manufacturer. This gave us the ability to focus on what we were good at marketing and selling the products all over the world. Within three years, we were able to achieve U.S. $4 million in sales, sell to 27 countries, and generate more than 33 percent of our overall business overseas. We did all that with only four people on staff: a general manager, myself (export manager), a bookkeeper and an administrative assistant.
So contract manufacturing can really free you up to do what you are good at. If I had it to do all over again, I would have done this sooner and explored the possibility of contracting out parts of new products for overseas manufacture.
Motivation for Contract Manufacturing
Based on my experience, contract manufacturing is done for three primary reasons:
Cost savings
More time to focus on core competencies
Cost savings can be achieved by contracting with a manufacturer that already has knowledge of the manufacturing process, has invested in the appropriate equipment and runs similar but non-competing products in its facility (economy of scale occurs). Their location might also offer savings in energy costs, taxation benefits, overhead or raw material.
In addition, cost savings can result for labor-intensive production processes by sourcing the product in a low-wage country. There's some risk (e.g., political and economic) here, but provided you do your homework, the benefits can outweigh the risk.
Contract manufacturing also frees up people at the hiring firm to stay focused on their strengths or core competencies of selling and marketing.
Having a product made in a country that offers cost-savings as outlined above and a market entry that may otherwise be prohibitive is the best of all worlds. For example, you may have barriers to entry (refer to No. 8) in China, but your product can be made there inexpensively and re-exported to all contiguous countries. That's the sort of thinking you must do to grow!
One last detail: Find out if the contract manufacturer drop-ships to customers everywhere or only to a specified geographic area.
Some handle individual shipments to customers and others only deliver a large lot to a central warehouse where the hiring firm takes care of shipments. Ask.
Caution for contract manufacturing
Are you feeding your best ideas to a potential competitor down the road or in another country? That's a very good question and it leads to my single greatest caution to you. Be sure to get a good legal contract - transfer of knowledge - in place to ensure you are protected against any fraudulent behavior. A contract manufacturer can witness firsthand the demand for and potential of a product in his or her market. If it looks attractive, what is to stop them from producing their own similar product with a tweak (read: improvement) here or there to differentiate it from yours? A contract outlines your legal rights and recourse should this occur.
Be sure to identify which country the contract is governed by if in fact, you are negotiating across borders.
Other Risks to Contract Manufacturing
A couple of other risks to contract manufacturing: cultural differences that include but are not limited to language barriers (if you are contracting overseas); lack of control over the quality of the manufacturing process; and lack of direct control over the manufacturing process (keep in mind that you are not the only customer of the contract manufacturer!).
What to Look for in a Contract Manufacturer
Good, clean, well-managed facility
ISO-certified (meeting quality standards)
Drop-ship capabilities (direct to customers)
Ability to be flexible and absorb market fluctuations
Keep up with demand on product
Synergies with hiring company
Highly reputable in the marketplace
Financially sound
Solves your specific production challenges
If the idea of not producing a thing and leaving it up to someone else appeals to you, then leverage contract manufacturing to grow your import/export business.