The 7 Best Places to Find Clients
How to Find Clients so You Can Build Your Customer Base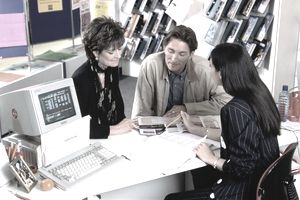 How to find clients is the big sleep-disturbing, gut grinding question for anyone thinking of starting a service-oriented business. The sector of the industry may be "hot" and our personal credentials and skills superb, but neither of those things guarantees that clients will constantly be calling, texting or emailing us with requests for work.
Instead of sitting back and hoping some will show up, you need to be proactive, get out there and get the clients you need.
Here are the seven best places to find clients:
1) In your workplace.
Countless small businesses have been started by working professionals who a) moved from being employees of a company to being contractors or b) found a worthy client or two and absconded with them to form their own business.
So if you are currently a working professional, you may want to explore one or both of these scenarios. If you are thinking of becoming a contractor, though, be sure that you are clear about the differences between a contractor and an employee from a tax point of view.
2) Through business organizations.
If you don't currently have any working connections, this is my number one piece of advice about how to find clients; join and participate in business and social organizations. You will pick up more business this way than through any other method except perhaps referrals once you get known.
Remember that this is not about the number of organizations you belong to; it's about what you do within the organizations you belong to and how other members perceive you.
So don't rush out and join ten groups and expect calls from new clients to pour in; choose a few only and participate in their work freely and fully. And be patient; people need to get to know you before they'll start sending work your way.
Read more about the benefits of joining business organizations.
3) Through your friends and family.
If you are blessed with many friends and family that are always in your corner and ready to help if they can, let them. Tell them about what you're doing and that you're looking for clients – and tell them exactly what those ideal clients would be like, too.
Even if they can't use your services themselves, you'll at least then have a reliable scouting team that will continue to spread the word about your business. Learn more about how to get positive word of mouth working for you.
4) Through advertising.
Traditional advertising, such as these 17 Advertising Ideas for Small Businesses, still work very well for small businesses.
It's equally important now for every small business to have a website, if for no other reason than the fact that so many people now use their phones, tablets, etc. to look up addresses on the web.
For this same reason, it's important to get the full force of internet directories working for you. Do a search for your business in any search engine and make sure that your listing is complete and accurate in all the local directory listings you can find.
5) Through your personal activities.
All the group things you and your family do are opportunities to find clients.
Take the time to converse with the other parents when you're taking your kids to soccer or dance. Be friendly when you're at the gym. Try to get to know other people and learn what their interests and concerns are.
Remember, when you are in a service oriented business, you are your business and whether you're at a grocery store or a pub, your business is always on display. It Pays to PAK Your Business Image explains how to be the kind of person that other people are going to want to do business with.
6) Through referrals.
When someone calls you and says, "I'm wondering if you could __________________ because _________________ told me you did such a great job," it's a magical, perfect moment. Hopefully, it will happen to you many times over the course of your business; it is truly the best and easiest way to get clients ever.
Unfortunately, it's only something that can happen once you already have at least some clients.
But you can at least speed up the referral train and get more referrals than you would have gotten otherwise. Read How to Ask for Referrals to see how.
7) Through social media.
The best use of social media to find clients is through being seen to be knowledgeable and helpful and currently, to my mind, that makes the best place to be LinkedIn, where it's easy to find groups related to your industry and/or professional interests that you can participate in. Here are 9 Simple Tips to Make a Better LinkedIn Profile.
Once again, just as with real-life groups, participation is the key to getting people to want to do business with you. You can do this kind of thing on Facebook and other social media, too, but it's harder. How to Create a Social Media Plan, explains how to tell which social media is the best fit for your business.
How to Find Clients: Two Things to Remember 
Two points in closing:
First, the most important thing in finding clients is your mindset. You need to realize that every place you go is a chance to find clients and act accordingly.
You don't need to be pushy or obnoxious; you just need to be friendly, open, and aware when you're presented with an opportunity. How to Tell Prospective Clients What You Do can be helpful if you are not comfortable telling strangers about your business.
Second, none of the above is instant. Getting new clients is a process and how long you have to work at the process varies. But knowing where to look and how to get clients to look at you will at least make the process easier.
Read more on how to get clients:
Work Is Necessary: Struggle Is Optional; How to Get All the Clients You Need
7 Ways to Increase Your Service Business's Profits 
Attract More Customers and Clients Through Cross-Promotion 
How to Ask for Referrals and Get More Clients