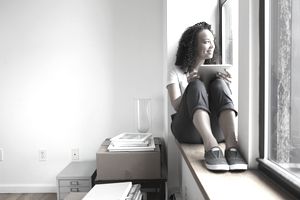 Georgia's statewide Code has clauses in place which specifically target landlords and tenants in the state. These rules are meant to help both parties understand the basics of the landlord-tenant relationship, as well as what is legally expected of them. The basic rights of landlords and the rights of tenant are also included in this Code. Here are six rights of tenants in the state of Georgia.
Georgia Tenant's Right to Fair Housing
All individuals in the state of Georgia have the right to receive equal treatment in any matter related to housing.
This includes when they are trying to rent a home, when they are trying to obtain rental or financial assistance for that home or when they are trying to purchase a property. These rights are protected under the Federal Fair Housing Act, but also under Georgia's own Fair Housing Law.
The seven classes of people that are protected under Georgia's Fair Housing Law and the Federal Fair Housing Act include:
Color
Disability (Physical and Mental)
National Origin
Race
Religion
Sex
Under the law, illegal actions by landlords include:
Falsely stating that a unit is rented to avoid renting it to a certain individual.
Charging a higher rent for a unit because the tenant is of a certain race, religion, familial status, etc.
Having different lease terms due to a tenant's race, religion, familial status, etc.
Flat out denying a tenant the ability to rent a unit due to their race, religion, familial status, etc.
Posting discriminatory statements in a rental unit, such as "no children allowed," unless it is designated senior housing.
Trying to dissuade a prospective tenant from renting a unit because he or she does not fit the racial makeup of the area.
An example of an action by a landlord that would be considered a violation of Fair Housing would be if the landlord was screening a prospective tenant over the phone and made the judgment that the tenant belonged to a certain ethnic group.
If the landlord told the tenant that the landlord did not want to rent the unit to the tenant because the landlord did not believe the prospective tenant would fit the racial makeup of the neighborhood, this would be considered discrimination. The prospective tenant could file a complaint with the State or Federal Fair Housing Commission.
Georgia Tenant's Right to the Security Deposit
Georgia's Landlord-Tenant Code includes rules about the security deposit which landlord and tenants must follow. These rules include how much a landlord can collect, reasons a landlord can deduct from a tenant's security deposit and how soon after move-out a landlord must return a tenant's security deposit.
Many states set a maximum on the amount a landlord can collect as a security deposit. Georgia does not. The landlord can charge as much as he or she wants, assuming they can find a tenant who is willing to pay that amount.
A landlord in Georgia must provide a tenant with written notice that lists any existing damages in the unit before collecting the tenant's security deposit. After collecting a tenant's security deposit, the landlord must again provide written notice which states where the tenant's deposit is being held.
Deductions can be taken from the security deposit to cover the tenant's unpaid utility bills or for unpaid pet fees. Walk-through inspections are allowed in Georgia. The landlord must do this inspection to check for damages within three days of tenant move out.
In Georgia, a landlord has one month after the tenant moves out to return the tenant's security deposit. The deposit should be sent to the last known address of the tenant.
Georgia Tenant's Rights for Active Duty Service Members
§§ 44-7-22 and 44-7-37
In the state of Georgia, landlord, and tenants must follow specific rules when it comes to members of the military. Georgia Code protects service members by allowing them to terminate their lease agreement early if they receive active duty orders which require them to move 35 miles or more away from the rental property.
The tenant must provide written notice to the landlord at least 30 days prior to their desired date of lease termination. The landlord is entitled to receive rent up until the date of the lease termination, as well as to collect any damages the tenant has caused to the unit.
Georgia Tenant's Right to Landlord Disclosures
§§ 44-1-16, 44-7-3, 44-7-20, 44-7-33 and EPA's Lead Paint Law
Georgia tenants have the right to certain disclosures from their landlords. These disclosures include the name and address of the owners and the person designated to manage the property. Tenants must also be notified if there is a change in ownership, management or address.
Georgia landlords must disclose to their tenants if the property has a propensity to flood. This is defined as any portion of the property included in the tenant's lease that has taken on water three or more times in the last five years.
Georgia tenants also have the right to be notified of any defects in the unit prior to moving in. The landlord must provide the tenant with a list of any known defects and the tenant has the opportunity to either agree with the defects listed and sign the list or disagree with the defects and provide a separate signed written notice stating which items he or she disagrees with.
If questioned, the landlord or landlord's agent must also honestly disclose information about any murders, felonies, suicides or other deaths that have occurred at the property or individuals with diseases who have occupied the property. These questions can be answered as long as the answers do not violate any state, local or fair housing rules or regulations.
Landlords with properties built before 1978 must also disclose any known lead-based paint hazards as well as provide the tenants with a copy of the EPA's brochure on lead-based hazards in the home. The landlord should also include an addendum to the lease with states that the landlord has made all proper notifications relating to lead-based paint.
Georgia Tenant's Right to Rent Disclosure
§§ 13-6-15, 44-7-19, 44-7-50, 44-7-52 and 47-7-7
Georgia Code does not put many restrictions on the landlord when it comes to rent disclosures. There are no set rules for late fees, rent increases or grace periods. Georgia does not set a maximum on the amount of rent a landlord of a private residence can charge their tenants. Georgia does have a rule for bounced checks, which allows the landlord to collect the original amount owed plus additional fees, possible damages and court costs.
Georgia Tenant's Right to Abandoned Property
§ 44-7-55
Georgia has a clause in its landlord-tenant code about abandoned property. If a landlord has been awarded a writ of possession, then the landlord can consider any possessions left behind by the tenant after this writ is executed, typically seven days after being issued, as abandoned. The landlord is under no further obligation to store or maintain any of these abandoned possessions.
Georgia's Landlord Tenant Law
To view Georgia's law regarding tenant's rights in the state, please consult Georgia Code Annotated, §§ 44-7-1 to 44-7-103.