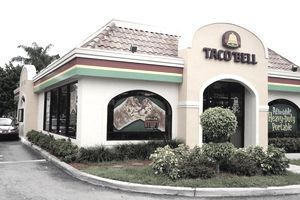 Between 1954 and 1955, Glen Bell opened three Taco-Tia stands, which he later sold to his partners. He then opened the first Taco Bell in Downey California in 1962. Today Taco Bell is part of Yum! Brands, Inc., which is the world's largest restaurant system "with more than 32,500 KFC, A&W All-American Food, Taco Bell, Long John Silver's and Pizza Hut restaurants in more than 100 countries and territories." .
Background and Benefits
Taco Bell is the nation's leading Mexican-style quick service restaurant chain in the world with 70% market share serving over 35 million consumers each week. Menu items include tacos, burritos, nachos and other specialty items with worldwide recognition and popularity.
As of 2007 Taco Bell is the best-performing brand of Yum! Brands having $1.8 billion in sales for company-owned stores alone with a compounded annual growth rate of 6% from 2001, and sales of $4.4 billion for franchisees and licensees in the United States. In 2005, more than 80 percent of the restaurants were owned and operated by independent franchisees.
How Much Does a Taco Bell Franchise Cost?
If you have a passion for operations, excellence, and team building and you can commit to building at least 3 restaurants over 3 years Taco bell wants you. A stand-alone restaurant runs between $1,200,000 and $1,700,000, but these figures do not include the land or lease costs.
Yum! Brands offers a complete training program that covers brand training, and leadership courses at Yum! University for both you and your team. Performance Improvement Programs and Support are also offered with 5 days of on-site training in the corporate training center in Palm Beach Gardens, Florida.
What We Like
In a word--Multi-branding. Taco Bell went public in 1969 and was acquired by PepsiCo in 1978, who spun off KFC, Pizza Hut, and Taco Bell, forming Tricon Global Restaurants, Inc., the world's largest restaurant company with revenues in excess of $22 billion. In 2002, Tricon became Yum! Brands, Inc., with the additional acquisitions and today, Taco Bell Express brand outlets can be found in stand alones alongside these sister eateries.
Multi-branding means power and profits, so if you can "think outside the bun" you can "make a run for the border" because "there's nothing ordinary about it." Taco Bell has more tag lines than a school playground and satisfied consumers remember them.
Pros
Absentee Ownership - It appears that although a hand-on operation, absentee ownership is allowed. If you have the money to own one, you are probably at the beach house most of the time anyway.
Ranking - Taco Bell ranked No. 1 in its category in 2008, 2006, 2005, and 2004.
Cons
No Financing Available - Not even third party referrals, and there is a non-renewable 20-year agreement.
Staffing Requirements - With 25 employees recommended per franchise, overhead is higher than normal.
Taco Bell Franchise Information
Business Established: 1962
Franchising Since: 1964
Total Investment: $1,200,000 to $1,700,000
Net worth requirement: $1M
Cash liquidity requirement: $360K