Structural Insulated Panels Benefits
Structural Insulated Panels: Types and Benefits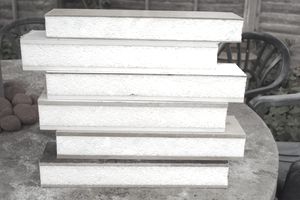 Structural Insulated Panels
Structural Insulated Panels (SIP's) are used in floors, walls, and roofs providing an extremely durable, strong and energy-efficient high performance material. Structural Insulated Panels (SIP's) are typically made by a plastic foam rigid insulation between two structural skin surfaces such as oriented strand boards (OSB). These panels usually are manufactured in various sizes or dimensions with thickness varying between 4 to 8 inches.
Structural Insulated Panels, can also be manufactured on larger sizes to custom works but they will require some type of crane to erect them. Structural Integrated Panels (SIP) interior sheathing material can also be tailored to specific needs as required by the project specifications.
Structural Integrated Panel Types
Structural Integrated Panel manufacturing is a very important factor to be weighed in before acquiring the panel. The quality control over its fabrication will determine how long the structural panel will last and its performance. It is very important to know the fabrication process of the panel and how does the surface panel was bonded or glued to the insulation material. Improperly glued or cured panel can delaminate and reduce its performance. Some manufacturers are examining ways of using cementitious and rigid fibrous insulating materials.
The most common types of Structural Integrated Panels (SIP) are:
Expanded Polystyrene Insulated Panels
The vast majority of Structural Integrated Panels (SIP's) are being manufactured using expanded polystyrene (EPS) foam board insulation, a closed cell type of insulation. This type of insulation used on the Structural Integrated Panel will represent an R value, measurement of insulation, of 4 per inch of thickness and sometimes R values can be as higher as 5 per inch of thickness, producing a final R value about13.8 Typically sizes of this type of panel in the US is between 4 feet and up to 24 feet wide.
Polyurethane or Polyisocyanurate Insulated Panels
Polyurethane and polyisocyanurate SIPs have a nominal R-value of around R-6 to R-7 per inch (2.5 cm) of thickness. This means that you can achieve R-26 with 4.5-inch walls. These types of panels are usually manufactured as 3.5 in thick panel to be used on walls and up to 7.5 inches thick ceiling panels. These type of SIP panel is more expensive than the previous one but have increased resistant to water and fire, and provide higher R values than EPS panels. Some manufacturers decide to use polyisocyanurate or polyurethane as the insulating material. Liquid foam can be used to manufacture SIP and sometimes can reduce the initial R-value of the Structural Integrated Panel. Liquid foam contains a blowing agent that can escape over time producing the aforementioned results. When liquid foam is hardened, it produces a strong bond between the foam and the skins producing a stronger SIP panel. These types of panels when used with Metal surfacing are replacing tilt-up walls due to their ease of installation and faster procedure.
Compressed Straw Core Insulated Panels
Compressed straw core insulated panels are greener than other types of structural integrated panels because they are manufactured using renewable and recycled waste agricultural straw.
These types of panels, although greener, will not produce higher R-values as the two previous types of panels.
Benefits of Structural Integrated Panels
Some of the benefits of using Structural Integrated Panels are:
Using SIP higher R-values can be obtained

Higher strength-to-weight ratio

The insulation offered by SIP's is superior when compared to studs or traditional construction methods

SIP can offer energy savings between 12% to 14%

Using SIP's a more air-tight unit can be build, resulting in a quieter and more comfortable structure

SIP's are extremely strong, energy-efficient and offer a cost-effective alternative

SIP's will save you money with a faster construction method

Reduced amounts of waste and labor

SIP's will produce less expensive heating and cooling equipments inside the structure

SIP's produces flatter surfaces to work with
No need to look for studs to place fasteners

No curvatures due to drying of the material

Can be treated against insects

Structural Integrated Panels can be used in walls, ceilings, floors and roofs

Structural insulated panel wall systems were adopted into the International Residential Code (IRC) on May 22, 2007

Some SIP's are manufactured using with no CFC's or HCFC's