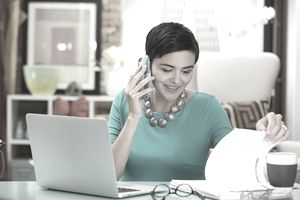 Running a business is hard enough, and keeping costs low is key to turning profits and staying afloat. One great way to launch a new business is to buy liquidation goods at bargain basement prices that you can resell for a profit. Thankfully, there are lots of opportunities to find other businesses who are looking to cash out and unload inventory at pennies on the dollar. Here's how.
First, check out the Internet for websites that will lead you to reputable liquidation wholesalers. A simple Internet search will yield dozens of websites that promise daily auctions of liquidation merchandise at deep discounts, but the most important thing in choosing your supplier is to make sure it's reputable. Get the contact information and place a call, or send an email; if you don't get a response, or it just doesn't "feel" right, move on. Check other websites for reviews about the online merchants you're considering.
Are they correctly representing the merchandise they're selling? Are there complaints against the vendor? Does the merchant have references? In short, check them all out to make sure you don't get a bum deal.
Know What You're Buying
Decide what types of goods you plan to buy. Just as important, know how much you plan to buy; depending on your supplier, you may be able to buy as little as one case or may be required to buy dozens of entire pallets. Total cost is important, too; you should find out the cost of the merchandise itself, as well as "hidden" costs like shipping, that can impact your profit margin. Don't limit your search to one website or one vendor; check out similar products being sold by other vendors, either online or in your neighborhood.
And, once you take delivery, where will you store it?
Know Who You're Buying From
Who's liquidating this merchandise? A retailer? The government? Why are they liquidating? Are you buying from them directly, or working through a receiver? It is typical to work with a receiver who deals with large quantities of liquidated goods. It's important to understand who – and why – they are selling, so that you know what you're dealing with.
Know What You're Selling.
Where do you plan to sell it? And for how much? Figure up the total cost to determine the amount of profit you expect to make. Make sure that the goods you are buying have a ready market that you can turn quickly. Also, inspect what you plan to buy so that you know the quality of the merchandise; make sure the quality is decent and corresponds to the price you plan to charge. This is especially important with electronics and flat-packed furniture, which have high return rates. Many times, the receiver in charge of the liquidation will not check the quality of the merchandise being liquidated, and will simply mark it as "unchecked" or give it some other generic term, so it's up to you to do the quality control.
If the goods have been checked and graded, you'll pay more. One good rule of thumb is to buy as far up the liquidation chain as possible – the more times your merchandise has changed hands, the more likely that it is poor quality or won't sell.
Don't Get Taken.
Check out the price of similar items at other sites to ensure that the price you're paying is competitive. Market research is critical to ensure that you don't get charged too much and that you'll have a place to sell your merchandise once it's in your hands.
Buying low and selling high is at the core of any successful business. To be successful. However, you need to know as much as possible about what you're buying, and how you plan to sell it.