What Is a Sole Proprietorship?
The Sole Proprietorship Is Most Common Form of Small Business Ownership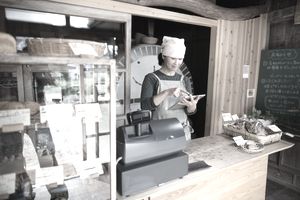 Definition:
A sole proprietorship is a unincorporated business owned by one individual, making it the simplest form of business to start and operate. There are over 20 million sole proprietorships operating in the United States and Canada, making it by far the most popular form of business ownership.
The key feature of the sole proprietorship definition is that unlike an incorporated business or a partnership there is no legal separation between the business and the owner in a sole proprietorship - the business is considered to be an extension of the owner and as such the owner is personally responsible for any debts or liabilities incurred by the business.
Advantages of a Sole Proprietorship
Disadvantages of a Sole Proprietorship
As mentioned above, with a sole proprietorship there is no legal separation between you and the business. This means that as a sole proprietor if the business fails and incurs debts or if you are sued for damages caused by accident or negligence in the course of your business activities, your personal assets (including your home and any other assets registered in your name) could be seized to discharge the liabilities. With an incorporated business or partnership the personal assets of the owner(s) are separate from the assets of the business and as such are protected from seizure for debt obligations or liability. As with all forms of business, having sufficient business insurance is very important.
While tax simplicity can be an advantage for sole proprietorships, it can also be a disadvantage in terms of flexibility, as all business income must be reported as regular income in the year in which it was earned. Incorporated companies have much more flexibility in terms of how and when the owners are paid. (See Salary or Dividends - How Do I Pay Myself?)
Some businesses, government agencies, consulting groups, etc. will not deal with unincorporated businesses, either because they view a sole proprietorship as not having the same level of legitimacy and professionalism as an incorporated business, or that hiring a sole proprietor increases the risk of the tax authorities treating the person as an employee rather than an independent contractor.
Raising capital is more difficult for sole proprietorships - incorporated companies can raise equity financing from angel investors or venture capitalists by selling shares in the business.
Sole proprietorships can be difficult to sell as the business is completely tied to the owner. Since there is no distinction between the assets of the owner and the assets of the business proper valuation of the business can be hard to achieve. Death or long term illness of the owner can render the business worthless. Customer loyalty resides with the original owner of the business and may not readily transfer to a new owner.
A Good Starting Point?
It should be noted that you don't have to keep the same form of business ownership for the life of a business. Many small businesses start out as sole proprietorships, for example, and then become corporations later on (see Incorporating a business in the U.S. or How to Incorporate in Canada).
Famous Businesses That Began as Sole Proprietorships
J. Willard Marriott started several businesses as a sole proprietor, beginning with a root beer stand that eventually became the A&W restaurant chain. His hotel business began in 1959 and did not incorporate until 1969.
Richard Warren Sears started a mail order watch and jewelry sales company as a sole proprietor. He later hired Alvah Curtis Roebuck to repair watches. The two decided on a partnership and eventually Sears, Roebuck and Company became the largest retailer in the United States.
James Cash Penney started his career as an employee in a small retail chain in 1898. He eventually bought out the existing partners and ran the business as a sole proprietor for a number of years. The number of stores continued to grow and in 1913 the chain was incorporated under the name "J.C. Penney Company". By 1929 over 1000 stores were in operation.
See also:
Choosing a Form of Business Ownership
Should You Incorporate Your Small Business?
Thinking of Starting a Small Business?
Top 10 Tips for Starting a Business