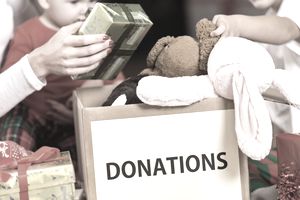 At this time of year, we are all swamped with letters, phone calls and emails from charities. It's natural.
After all, people are likely to be at their most generous at the holidays. Not to mention that philanthropic gifts need to be clocked in by December 31st to receive a tax deduction.
It's no wonder that, traditionally, charities have received the bulk of their yearly donations during the last couple months of the year.
It's a great time to give. But it's also important to make sure that you donate your hard-earned dollars well. That takes more than a generous heart. It also takes the rational thought of a hard-nosed consumer who can pick the best choices from a myriad of opportunities.
Unfortunately, many donors don't put that much thought into where their donations go. Research into charitable giving suggests that maybe a third of people who donate spend any time at all on researching the groups they give to. We are all more likely to think harder about the refrigerator or car we buy than we do about where we send our donations.
Don't let that tendency affect you. Take some time to think about your charitable goals, the areas where you want to help, and then seek out those charities with the best track records. Doing so will make you feel even better about your charitable giving.
Here are four tips to help you become a smarter donor by making sure that your charitable contribution goes where it is sure to do the most good:
Check any charity against the "Consumer Reports" of the charitable world.
GuideStar lists more than a million nonprofits in its database, all of which have met IRS criteria for exempt organizations. You can check here to make sure your charity is a 501(c)(3), and examine its latest tax form, called a 990. 
The Life You Can Save was founded by Peter Singer, a sometimes controversial figure in the philosophy of philanthropy. The Life You Can Save website encourages people to give to organizations fighting extreme poverty around the world. Singer believes that every dollar should count and recommends only those charities that do the most good for every dollar spent. 
Don't micromanage.
Don't put strings on your gift. Once you decide on a nonprofit that you like and trust, be generous enough to give an unrestricted donation. Unrestricted means that the nonprofit can use the money where needed.  Such contributions provide organizations the flexibility to meet any and all of their needs.
Add to your emergency giving.
If you gave earlier in the year to an organization helping in a disaster (think of the Ebola crisis, the Nepal earthquake, or Hurricanes Harvey, Irma and Maria), go back to that organization and give more.
Much of the need from any disaster comes later, during the recovery period. Your continued support will mean so much to that nonprofit and the people it helps.
Don't be a social dummy.
In a world of Facebook, Twitter, and YouTube, it is easy to get carried away with the appeals coming your way. But stop and do your due diligence before giving. Check out each charity using one of the services listed above and make sure you know who is behind the appeal. If in doubt, just say no.
There is no doubt that giving makes us feel good. So go ahead, be generous this holiday season. If you do so with both your head and your heart, your giving will warm you and others for a long time to come.