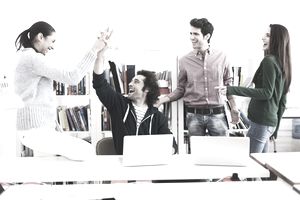 Small business owners are notoriously busy, often juggling multiple tasks at once, making it difficult to stay on top of everything without unnecessary stress. Luckily, there are many digital tools out there that can help even the busiest small business owners get on top of their schedules and make the most of the time they have.
This list of 101 tools covers just about every area of business where you may need a little extra support.
Don't worry; you don't need all 101 tools to improve your business processes. Just start by picking one from each category that tops your list of challenges. 
Project Management and Collaboration
One of the ongoing goals of most small business owners is to get more done in less time. This is why the productivity tools below are useful for every small business owner.
IFTTT - A tool that connects the apps and devices you love with "if this, then that" statements.
OmniFocus - A cross-device app designed to quickly capture, store, manage and process your thoughts and ideas into actionable to do's.
Travel
If you travel for business, there are a handful of apps that can make your trips more productive and enjoyable.
Streamline your travel with the tools listed below.
Social Media Management
Managing your social accounts can wipe out a lot of your time, if you don't do it wisely. The tools below will help you spend less time managing social media while increasing your impact.
Blogging/Content Marketing
Most small businesses can benefit from a blog and content marketing strategy.
Consider the tools below to be must-haves for getting started with blogging. 
WordPress - The largest self-hosted blog content management system with tens of millions of users.
Google Analytics - A tool to measure advertising ROI from your online marketing efforts.
Kissmetrics - A platform that helps you track, analyze and optimize your digital marketing.
SEMrush - A competitive intelligence suite for online marketing, from SEO and PPC to social media and video advertising research.
HubSpot - An inbound marketing and sales platform that helps companies attract visitors, convert leads and close customers.
Kapost - A B2B marketing tool that delivers compelling and consistent content from first touch through sale to advocacy.
Optimizely - A platform for businesses to conduct A/B testing on their web properties.
Scheduling
If you have a service-oriented business that requires appointments scheduled ahead of time, give your clients a way to book their next appointment online with one of the tools below. 
Appointy - All-in-one online scheduling software used by more than 65,000 customers worldwide.
Schedulicity - A mobile platform for service professionals that includes online scheduling, client management, email marketing and other business tools.
Genbook - A tool for appointment scheduling and managing your business, staff, and customers.
Graphics
Whether you have a graphic designer on your team or you are more of a DIY designer, the tools listed below cover varying levels of experience and function. 
Adobe Creative Cloud - Adobe's entire collection of creative desktop and mobile design tools.
Visual.ly - A tool to create content that is eye-catching and engaging.
Pixlr - A free online image editor that allows you to fix, adjust and filter images in a browser.
Canva - A drag-and-drop online tool for creating presentations, social media graphics
and more.
iStockPhoto - A stock photography site with millions of royalty-free images, illustrations, and videos.
Gimp - A free and open-source graphics editor image retouching and editing, resizing, cropping and more.
Skitch - A screenshot tool that allows you to add annotations, shapes, sketches and more.
Customer Service
Customer service can make or break a business. Make your customer service process more efficient while building customer loyalty with the tools below. 
Email Marketing
When it comes to keeping in contact with your customers, email marketing is the best way to communicate and build customer loyalty. The email marketing platforms below will increase your brand recognition and credibility with customers and prospective customers.
Accounting
There are so many tools small business owners can use to keep track of their budgets, invoice customers and take payments online. Explore the accounting and bookkeeping tools below to get started. 
Communication 
Effective communication is vital for every small business, whether it's with customers, employees or other members of your team. The tools below allow you to communicate, chat and talk face-to-face with the most important people in your business. 
Customer Relationship Management (CRM)
How you manage your customer information can set the stage for your entire lead generation process. The tools below will help you create and manage your pipeline.
E-commerce
Do you use your website to make money in your small business? Use the tools below to sell your products on your website and get paid online quickly and easily.
Email Management
Email can get quickly out of control, hurting your productivity. The email management tools below will help you stay on top of your email and make it a productive tool, not a time-wasting tool.
File Sharing
Being able to share your files quickly with your team, while collaborating and tracking changes, is a powerful way to boost productivity. These tools are excellent options for file sharing.
Networking
Business networking can help you grow your customer base while providing opportunities for learning, development, and growth. The tools below will help you network more effectively from the office and on the go.
Goal Setting and Tracking
Without goals, your business won't be able to grow. Goal setting, when done consistently, can help you reach new levels of success in your business. Try one of the tools below to set and track your business goals more effectively.