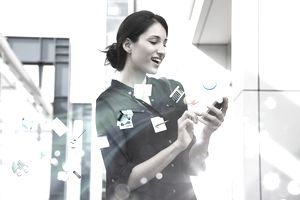 Technology helps small business owners maximize their time so they can be more efficient and productive. From creating a mobile office to using the Cloud, there are many ways to leverage small business technology. Here are 27 apps that will help you use technology to streamline important business processes.
 17hats: An all-in-one app that provides a variety of services specifically geared toward "businesses of one." Services include management of contacts, invoices, contracts, bookkeeping, calendar, tasks and projects, workflow and more.
Evernote: A multi-platform tool that creates a personal or team workspace for daily projects, ideas, and lists. Users can clip web articles, capture handwritten notes, and add photos to files.
Expensify: A simplified expense reporting tool that helps small business owners to streamline the way employees report expenses, the approval process, and the process for utilizing that data in accounting software.
MileIQ: A mobile tool that tracks miles traveled by using drive-detection technology. Useful for small business owners who travel frequently for business.
OmniFocus: A task management app that tracks tasks by project, place, person, or date. The tool allows users to create perspectives and contexts to manage tasks for their business and personal life.
Prezi: Cloud-based presentation software that creates interactive presentations that include an engaging "zooming" feature. This tool also includes collaboration functionality that allows multiple users to work on presentations together.
Scanner Pro: Scanner Pro turns an iPhone or iPad into a fully functioning portable scanner that scans documents into professional PDFs.
Shoeboxed: Shoeboxed is a tool for scanning and organizing receipts and business cards, creating expense reports, tracking mileage and more.
Skitch: A screen capture tool that allows users to take screenshots, make annotations, and then share the image with others. Integrates directly with Evernote.
Smartsheet: A work collaboration tool with features that include file sharing, alerts, automated workflows, Gantt charts and more.
TeamViewer: A tool for remotely controlling any computer over the Internet. Small business owners can use TeamViewer to access their own computers when out of the office or coordinate online meetings.
Timeful: This app is all about improving productivity. Users input things they want to do and advanced algorithms will make suggestions when to schedule them.
Trello: A project management and collaboration tool that organizes projects into boards. Users can see the progress of any project instantly.
TripIt: TripIt is a travel organizing app that creates a master itinerary for every trip and gives users instant access to travel plans from any device.
Wix: A free website builder that allows small business owners with no coding experience to create customized websites quickly.