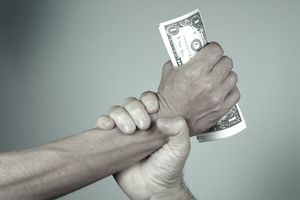 Restocking fees are fees charged when an item is returned. Sometimes restocking fees are based on the condition of the item and are a percentage of the sale price. If a customer returns an item and the seller has a restocking fee in their return policy, the customer will only receive a percentage of the initial purchase price. This policy is common in retail for higher end items like electronics, jewelry, or designer items. Among eBay sellers, restocking fees are a point of controversy. 
eBay's Policy on Restocking Fees
eBay's police on restocking fees actually contradicts itself. The policy isn't clear. On one hand, on the Sell Your Item Form, a restocking fee option is available for up to 20%. But on the other hand, the eBay Help page for Creating Your Return Policy, eBay states:
Don't charge a restocking fee. If you do charge a restocking fee, be sure to select a reasonable amount and limit it to instances where the buyer isn't returning the item in original condition.
If you charge a restocking fee for returns, we recommend that you only ask for a reasonable amount. 
You shouldn't charge restocking fees for items returned due to damage, defects, or not-as-described in the listing.
No wonder sellers are confused. While the selling workflow clearly has an option for restocking fees and many sellers implement it, the eBay Help Center advises not to apply a restocking fee. This begs the question, "Why is a restocking fee option allowed if eBay really doesn't want sellers to use it?"
Are Restocking Fees Legal?
"At many retailers, restocking fees are allowed as long as the fee is clearly disclosed and as long as it isn't charged if you're returning an item because of a defect or missing part, or because it wasn't what you ordered." 
Large retailers are better able to absorb the costs of a return item, so they don't usually charge a restocking fee. In fact, the only 2 large retailers known to apply a restocking fee to some items are Home Depot and Best Buy. Both are buried in the fine print, but nonetheless, are there if either store wants to apply them. 
The land of eBay is its own universe with its own rules, protocol, and of course, opinions. On eBay, the topic of restocking fees divides eBay sellers. Since many are one-person operations and every dollar counts, they charge restocking fees for any returns, regardless of the reason. Other sellers feel that a restocking fee is bad business and makes eBay sellers look bad.
Disadvantages of a Restocking Fee - Lost Opportunities
Charging a restocking fee can deter buyers from your listing. If there is a chance the buyer might return the item due to fit, color, size, or any other issue, the buyer may not look at listings with a restocking fee. Some sellers feel that customers are penalized with restocking fees even when eBay has a very generous 30-day return policy. However, those not charging a restocking fee shouldn't try to convert those who do. Not having a restocking fee can be a way to outperform the competition and provide better service.
Keep in mind that it is up to the individual seller to implement the restocking fee or waive it in each unique situation. So just because a restocking fee is shown on the listing, does not mean that the seller will apply it in every single case. 
Electronics and smart phones are other high return items because they are often involved in scams. Avoid selling these items or take steps to prevent returns by photographing the serial number or marking the item with a pen only visible under blacklight. Sometimes, the higher dollar items who attract scammers are not worth selling on eBay. 
Advantages of a Restocking Fee
While there are no advantages to the buyer, there are situations where it is advantageous for a seller to charge a restocking fee. One situation is sellers who sell formal wear or wedding apparel. Formal wear is a high return category as consumers have figured out they can buy what they need on eBay, wear it, and return it within 30 days. If the item is returned in the same condition as it was shipped to the customer, the seller can simply sell it again. But, if the item is dirty, stained, torn, or otherwise damaged, the seller may not be able to sell it again or will need to spend time and money repairing or cleaning the item to make it sellable.
High return items are good candidates for a restocking fee.
Before you decide to charge a restocking fee, take a look at your return rate and the reason for returns.  Do you often get complaints that the item isn't as described? Are you selling an item in a high return category? Are your photos not showing enough about the product? A restocking fee won't solve your return issue if there is a larger underlying problem. 
Furthermore, if you feel as a seller you are being taken advantage of, the problem might be your return policy, not a restocking fee. Are you losing money on items being returned in condition other than how you sold them? If so, add a disclaimer in your return policy that the item must be returned in original condition. If you receive an item whose condition doesn't match what you sent, you can take that up with eBay to help you resolve the issue.