Fun Facts For See's Candies Lovers and Aspiring Food Entrepreneurs
Give Your Mom the Gift of See's Candies and Impress Her With Your Trivia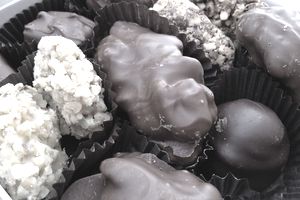 What food company investment cost Warren Buffet $25 million and has returned the investment many times in dollars and happiness points?
It's the same company that a man started, using his mother's candy recipes, with a brand based on his mother's kitchen.
If you live on the West Coast, you might know that's See's Candies.
And if you have never heard of See's, good news (or bad news): you very likely will stumble upon California's favorite, old-time candy company in a pop-up shop or new retail location.
After many years retrenching growth, a new CEO is steering See's towards retail store growth nationwide. (They've barely expanded beyond the West Coast and already Pittsburgh, PA has two locations!)
In honor of Mother's Day 2015 — and all the women entrepreneurs starting up food businesses and finding success selling at big stores like Walmart — I present you with the ultimate compilation of delicious See's facts and figures.
See's Candies Trivia by the Numbers
See's sells over 26 million pounds of candy per year, in its two factories in Los Angeles and South San Francisco. (Only .00032 of that is sold to me.)
See's makes over 1 million pounds of candy per year specifically as sample giveaways for customers — the secret to food business success. These samples are what created the "Happy Habit" (their long-time slogan) for many of us.
See's produces over 1 billion pieces of candy annually
Chocolate is See's highest volume ingredient – more than 12 million pounds of chocolate used each year in candy. For the past 26 years, See's has used a special formula of chocolate from the family-owned Guittard Chocolate company. Little known fact: you can see the See's Lollypop factory from the Guittard Chocolate factory. That's local sourcing!
On July 18, 2012, See's Candies set the Guinness World Record for "World's Largest Lollypop." The lollypop was made at the See's lollypop factory at Burlingame, CA and weighed 7,003lb. The 16'7" Tall lollypop was a Chocolate flavor.
See's makes 47 million lollypops per year. 15 Million of these are Butterscotch, the best-selling flavor.
The lollypop factory can make up to 500,000 lollypops per day, which is 600 per minute!
The See's Facebook page has nearly 1 million likes. Given that this company is not a national retail brand, that's pretty impressive!
How Has See's Kept up With the Times and Thrived as Tastes Change?
Some of the most popular See's candy flavors include Milk Chocolate Bordeaux™, Scotchmallow ®, and California Brittle. The most popular Lollypop flavor is Butterscotch.
See's is not gluten free certified, but all of the products and factories are gluten free. As part of getting a gluten-free certification, the inspector verifies that raw ingredients are being sourced from an NSF certified gluten-free supplier.  According to a spokesperson, because See's ingredient suppliers are not certified gluten free, at this point the company is not planning on pursuing certification.
Food business lesson: However, removing lingering bits of gluten-containing ingredients opens up the candy company to a new world of eaters. To be able to buy or give a gift of See's confidently to a GF / celiac eater is a gift in itself.
See's lollypops are made in a nut-free facility.  "A lot of people who are watching their weight enjoy our lollypops as a special treat – they are rich and creamy, last a long time, and are only 2 Weight Watchers points."
Food business lesson: With a broad product line, segmenting manufacturing to broaden possible customers is very, very smart. Especially when your food might deliver highly profitable revenue streams such as gifts and fundraising.
Vintage street team-style marketing got the word out about the original See's store in Los Angeles, according to the Los Angeles Times: "Tapping into the growing L.A. love for the automobile, [Charles] See employed couriers riding sidecar-equipped Indian motorcycles decorated with miniature replicas of the shop with the black-and-white See's logo to deliver chocolate around town."
Food business lesson: Hello, adorable! Food trucks, small utility vans and cute sales people on bikes fit right into See's 70+-year-old guerrilla marketing strategies.
See's has stopped making various flavors as tastes and customer preferences changed. Do you know these flavors?
Anise Lollipop
Black Walnut Cream and Bonbon
Brazil Nut Square
Coffee Nut Cup Caramel
Monterey Squares (Contained Dates, Prunes and Raisins)
Cocoa-Mint
Pineapple Jelly
Food business lesson: The discipline to discontinue unprofitable product lines is critical. Even if you're going to upset customers like me, who still miss the Date Nut cream.
Oh, and ironically don't these flavors sound on trend with today's craft food movement (especially the creative cocktails and preserves)?
How Much Brand Equity Does See's Candies Have?
So much that they can raise the price 5-10 percent each year. And we keep coming back. For the price sensitive, they sell discounted gift certificates at Costco. And keep that cycle of comfort food a Happy Habit.
As you can see, Warren Buffet's "dream company" has much to offer both the candy lover and the seeker of insights on businesses built to last.
Chime in on Facebook: What brings you back? What would you do differently?