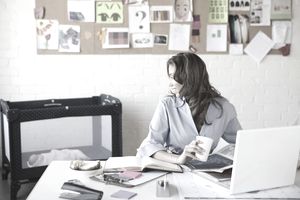 Busy moms who want to be present while raising their children, but still want to contribute to the family income, have many options for building a flexible home based career. Even so, for many moms, the initial search for work-at-home options can be daunting and discouraging. Sometimes they might be offended at the suggestion that they use their motherly or housekeeping talents to open a home business.
While that's an option, many moms don't want to care for people's kids or pets; bake, iron or clean houses for others. If you are a mom wanting to work at home, here are 5 Internet-based home business ideas to consider.
1. Offer a Service Online
The amount of services that can be done from your own home is unlimited. Review your personal and professional talents, and interests and see if you can translate them into a service that you can provide from a home office. Some service ideas include writing, editing, and proofreading, reviewing legal documents, bookkeeping, graphic design, virtual support, and more. In fact, in many cases you can take duties you did in a job and turn it into a home business. You can focus on offering services to the general public (B2C), such as tutoring, or to other businesses (B2B), such as web design or marketing. Here are a few service ideas you can check out:
Start a Social Media Management Business
Home Business Idea - Internet Marketing Services
2. Sell Products Online
If you ever dreamed of opening a retail store, that doesn't have to be put on hold because you're a stay-at-mom. The Internet has made it possible to sell products from any location, including your house.
The United States Postal Service even offers Carrier Pickup services that will pick your packages at your house making it simple to run a retail business from home. Your children can even help out with the work from home business by packing orders and getting them ready to mail.
As far as products, you can sell products you make, or buy wholesale or used items for resale. And getting your store online is easier and more affordable than ever. Building an ecommerce website doesn't require a great deal of expense or coding knowledge anymore. Or you can tap into commerce services such as Amazon and eBay.
9 Steps to Making a Living on eBay
What is Etsy and Why Should I Sell There?
5 Easy and Affordable eCommerce Shopping Carts for Home Business
3. Become an eBook Publisher
If you have a passion for writing, now is a great time to write an eBook or print book, and sell it online. If you're interested in book publishing but aren't sure about writing, you can hire ghostwriter. Selling eBooks, in particular, is ideal for the busy mom, but purchase and delivery can be done automatically, saving you the hassle of shipping. But you can even sell print books through Amazon and other online retailers if you use a print-on-demand service.
Again, the book is ordered, printed and mailed, by the service. 
How to Publish eBooks for Publicity and Profit
Self-Publishing: Considerations for Choosing a Publishing Service
4. Start a Niche Blog
A blog is a fun and great way to make money off a topic you know and/or love. This is especially true if many others know and love it as well. While you offer the information for free, there are many options for making money, including Google AdSense and other ad feed programs, that will place ads on your site, and then you can get paid when people click on the ads (but don't you click on them or that will violate the Terms of Service). Other money-making options include affiliate products, selling ad space, or selling your own products. 
The trick to success in blogging is through internet marketing to build traffic.
The more targeted traffic you get to your site, the more likely you'll make money. 
Home Business Idea - Google AdSense
Make Passive Income with Information Products
5. Market Affiliate Products and Services
Marketing affiliate products and services is basically getting paid to make referrals to other business. It's word-of-mouth marketing that can make you money. One great aspect of affiliate marketing is that you don't have to sell or deliver products. The most highly paid affiliate marketers either have a niche blog see above) or use a squeeze page and email newsletter, to promote special affiliate links. When your link is used, you can earn a commission or flat rate from the referral. 
Affiliate marketing only works if the people you're making the referral know and trust you. To do that, your blog readers, newsletter subscribers, and even social media followers, need to get more than just ad links from you. Instead, you need to also share helpful tips and resources. 
How to Work-At-Home As an Affiliate Marketer
Make Money with the Amazon Associates Program
Edited Sept. 2016 Leslie Truex