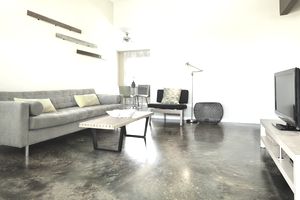 Concrete floors could be repaired using one of three alternatives. From textured concrete to micro toppings, concrete floors could be altered with minimums alterations and no or reduced demolitions. These alternatives will present ideas on when to apply and might take you to think outside of common solutions such as carpets, hardwood or any other cover over concrete floors. These alternatives shall be used either inside or over exterior concrete floors.
Concrete Floors: When to Repair
Concrete floors could be repaired when cracks are only on the surface, or it contains light cracks, commonly referred as hairline cracks. It is important to recognize whether concrete has settled or not, to determine the correct repair alternative. Some small contraction cracks could be covered by applying prime coats over the concrete floor. If the concrete floor to be repaired is heaving, has large wide cracks, or is damaged due to freeze damage, then other alternatives should be considered instead of resurfacing.
Concrete Floors: Stamped Concrete
Stamped concrete floors have been widely used over exterior surfaces; however, in recent years, the tendency to apply stamped concrete over the interior surface has increased. Stamped concrete provides a low cost, durable solution, offering an ample range of colors and patterns from which to choose. Stamped concrete gives the appearance of real stone, tile or brick without the higher installation costs and maintenance.
Stamped concrete floors are similar to micro topping, but they differ because they have more sand and provide a rougher concrete surface finish. A coat of concrete sealer is applied after the pattern has been created. Concrete that's too dry or made with aggregate that's too large makes it difficult to maintain a consistent stamping depth.
Concrete Floors: Micro toppings
Micro toppings are a thin layer, no thicker than 1/8 inch, applied with trowels or brushes depending on the final look. Micro toppings do not have the flow characteristics or sufficient mass of material to flow and so are not considered self-leveling. These materials are so thin that they dry very fast, so the final texture is limited to how the micro topping is applied over the concrete floor. This alternative cure in a day, and usually could be walked over within 36 to 42 hours of being applied. It is important to seal micro topping finishes, as they are microporous and will tend to collect dirt that is difficult to remove once embedded in the material. Micro-toppings can be used on interior and exterior surfaces, residential and office, and floors, lobbies, retail walls and floors, decks, patios, ceilings, countertops, showers, masonry, bleachers, food concession areas, waterparks, sidewalks, and driveways.
Concrete Floors: Self Leveling Underlayments
Self-leveling concrete could be chosen as the latest trend to cover deteriorated concrete floors. Self-leveling concrete could now be combined with dyes or tints to create wonderful finished colors. These products could be applied over most concrete floors and will correct uneven surfaces, damaged floors, and others.
One of the most important characteristics of self-leveling concrete is that it could provide a very dense and durable concrete floor. Most self-levelers can go down 1/4 inch to 1 inch, with the ability to go to a feather edge. Self-leveling concrete could be a very expensive solution, but the results are far better than other alternatives. Self-leveling concrete could be divided into two main groups: self-leveling concrete there are two main groups of materials: underlayments and toppings. Underlayments are installed over an existing subfloor to smooth it out and correct any surface irregularities prior to the installation of all types of floor coverings; while toppings act as the actually finished floor without the need for a floor covering