Why You Should Register Your Business Name With Your State
How and Why You Should Register Your Business Name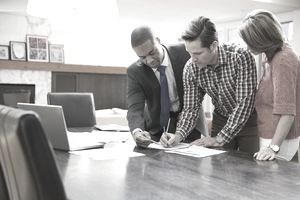 If someone suggests that you register your business name, you may wonder if the time and effort are really worth it. More than one business in the same state have the same name, but they shouldn't for a few reasons. 
I recently worked with a new corporation that wanted to start in Illinois, and we ran into an interesting problem with the business name. We filed the Articles of Incorporation online and received approval.
  Then we got an attorney involved to draw up the corporation's by-laws and some other documents. The attorney did some checking and found two corporations with almost exactly the same name in the state. If we had specifically registered the business name with the state when we started, we would have found out about the other name sooner and saved ourselves some time and aggravation. 
Why Do I Need to Register My Business Name?
If you're forming a legal entity recognized by the state such as a corporation, partnership or LLC, the name registration should be part of the legal process. You shouldn't have to pay extra for a separate name registration because the state should check to see if your business name is already being used when you file Articles of Incorporation, or Articles of Organization for an LLC. But they obviously didn't do this with the Illinois company I worked with, so you can't count on it.
If you're forming a sole proprietorship, you should definitely register your business name with the state because sole proprietorships aren't registered in any other way. 
How to Register a Business Name with Your State
Registering a business name isn't complicated and it offers decided benefits -- you'll know right off the bat if you're replicating someone else's name.
If you want to hang out your shingle as "Joe's Painting," but a Joe's Painting Service already exists, that customer who really loved your work might refer other customers to you ... who then call Joe's Painting Service instead. You've lost business. Wouldn't you rather know about this potential complication before you start out? Or what if Joe's Painting Service is involved in a hit-and-run accident with his name blazoned all over his truck? Wouldn't you like a clear delineation between your business and his? 
Go to the website of your state's secretary of state to register your business name. You can search to see if anyone else is using your chosen name in the state's database of registered business names. You can register the name you want by following the process explained on the website if your search doesn't produce a match. If it does, go back to the drawing board and tweak your name somehow to make it different and unique, assuming you haven't already incorporated and your state missed the similar name in a search or failed to search. 
Finding out after the fact that your business has the same name as another business is not a good thing. Bottom line: Check thoroughly before you finalize a business name and start putting that name on legal documents, letterheads and advertising.
Then register it, even if you're not legally required to do so. 
More about Selecting, Registering, and Trademarking Your Business Name
Reader responses to the question: Do I Need an Attorney for Business Startup?
Image: Getty Images