10 Benefits of Using a Realtor to Fill Rental Vacancy
Marketing and Connections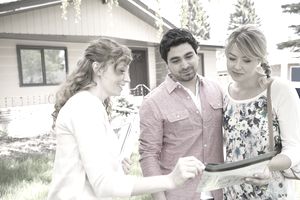 Finding tenants for your rental property can be time consuming and stressful. Some landlords believe that using a Realtor can help make this process easier. There are several benefits of hiring a Realtor to fill a vacancy at your rental property. Here are the ten best reasons to hire one.
1. Market the Property for You
The first benefit of hiring a Realtor to fill your vacancy is that they will market the rental for you.
Creating a good ad takes time, and often, experience. Realtors also have access to certain sources that you would not have if you decided to rent out the property yourself.
First, Realtors have access to other Realtors. Someone in their office may have a client that would be perfect for your rental.
Realtors also have access to the MLS. This listing service is accessed by Realtors all over the area. Another Realtor in the next city over may view the listing and contact your Realtor because they have a client who has been looking for a rental exactly like yours.
Realtors will also be able to promote your property by hanging the list in the window of their office. This is especially beneficial if there is a lot of foot traffic in the area.  
In addition to these exclusive marketing opportunities, the Realtor will also be able to promote your property in traditional ways, such as online advertising.
The Realtor can create ads for your property on sites like Realtor.com, Trulia.com and Craigslist.com, which can reach prospective tenants directly.
2. Schedule Viewings With Prospective Tenants
When you use a Realtor to fill your vacancy, the Realtor is the one who is interacting with the prospective tenants.
The Realtor will be managing all of the back and forth communication, as well as scheduling appointments with prospective tenants to view the property. Having this responsibility off of your plate will allow you to use your time on other productive tasks. You will also avoid possible conflicts with prospective tenants.
3. Show the Property for You
Another benefit of listing your rental with a Realtor is that the Realtor will be the one physically showing the property for you. If the prospective tenant does not show up, it is the Realtor's time that is wasted, not yours.
4. Large Database/Network
A large part of a Realtor's job involves networking. Realtors need to find new clients to represent, as well as potential buyers or renters to fill the listings they already have. Since a Realtor's daily actions are consumed by real estate, it is possible the Realtor will come across a prospective tenant simply through their daily interactions.
It is also common for a Realtor to have a large list of contacts that they send new listings to. The Realtor will likely send out your listing to this group of people
5. Know the Market Value
A Realtor will help accurately price your rental. The Realtor you choose should have experience with the rental market in your area.
He or she will look at the size and amenities of your property and compare them to three or four others in the area. These comparable properties will be the basis for what the Realtor believes your rental is worth. The goal is to get the highest rent possible, but not price it so high that it keeps the rental sitting on the market for months.
6. Access to Tenant Screening/Background Checks
Many real estate companies have subscriptions to tenant screening services. The Realtor will be able to easily screen prospective tenants to determine if the information on their application checks out.
7. Can Draft Lease Agreement for You
Most Realtors will have a basic lease agreement. It will include the most basic and necessary clauses of a lease such as length of lease, amount of monthly rent, when the rent must be paid, the basics of the security deposit and how the tenant must use the property.
This could be helpful if you have never drafted a lease before or do not have a lawyer to draft a lease agreement for you.
8. Only Get Paid if They Fill Vacancy
A Realtor will charge a commission to find a tenant for your rental. The amount they charge will depend on your agreement with the Realtor. It could be a percentage of the yearly rent, such as 8 percent, or it could be the equivalent of one month's rent. However, the Realtor will only get paid this commission if they actually find a tenant to fill your vacancy. 
9. Good for High Priced Rentals
Enlisting a Realtor is a great option if you have a luxury or high priced rental. Many people searching for apartments on sites like Craigslist are not searching for $5,000 a month rentals. A Realtor can help connect you with the clientele that is searching for these types of listings. While you will have to pay for their services, they may help you get the vacancy filled more quickly, so it will be a wash.
10. Helpful When You Have a Lot of Units/Vacancies to Fill
Hiring a Realtor to fill your vacancies can also be helpful if you have a lot of units to handle or if you have more than one vacancy to fill at a time.