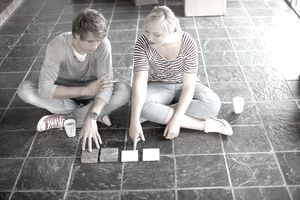 The flooring in a rental property needs to be able to withstand a lot of wear and tear. Since it is a rental, you want the material you choose to be cost effective, but you do not want to be replacing the floors every year, so you need to choose something that is also durable. Learn the pros and cons of seven popular flooring materials so you can choose the best option for your rental property. 
3 Things to Consider When Buying Flooring for Rental Property
1. Rentals Take More Abuse:
The materials that you use in rental properties need to be durable. While the flooring does need to look good, the main goal is for it to last as long as possible. It is a waste of time and money to constantly be replacing the materials in your rental. In addition, unless you are replacing the flooring during tenant move-out, it can be difficult to install new flooring while the tenant is living in the property. 
2. Goal Is to Make Money:
If you were choosing materials for your own home, you may want the most exotic marble or a unique lime green backsplash. As an investment property owner, your material choices need to appeal to the masses. Your best bet is to stick with neutral materials.
Cost is also a huge issue as an investor. You want to get the best price on everything. Every dollar you save is a potential extra dollar in your pocket.
If two tile options are similar, but one costs ten cents more per square foot, go with the cheaper one.
It will still accomplish the same task of giving you a brand new floor.
3. Consider the Function of the Room:
Different areas of the rental property may have different flooring needs. Areas such as basements and bathrooms tend to be damp and humid, so you want to avoid putting carpet, which can get moldy, or hardwood, which can warp, in those areas.
A durable, hard tile can be a good choice in a widely used common area. 
7 Flooring Options to Consider in Rentals
The Good: 
Good Insulator- Can Help Cut Down on Energy Bills.
Reduces Noise
The Bad:
Traps Odors and Allergens
Stains
Difficult to Clean
Can't Patch In- Will Have to Replace Entire Section for Bad Rips or Stains.
Best For:
Avoid:
Basements
Kitchens
Bathrooms
Entryways
Rental Common Areas
Hallways
See Also: Best and Worst Places to Install Carpet in Rental Properties
Option 2: Tile (Ceramic, Porcelain, Stone)
The Good: ​
The Tile Itself Is Easy To Clean
Durable
Water Resistant
Available in All Price Ranges
The Bad:
Not a Good Insulator
Tiles Can Crack or Come Up
Need to Clean Grout
May Need to Be Sealed or Polished
Takes Some Skill to Install
Best For:
Bathrooms
Kitchens
Basement
Humid Climates
Common Areas
Avoid:
Using Throughout the Home in Colder Climates.
Not Usually Seen in Bedrooms.

Option 3: Hardwood (Solid and Engineered):
The Good:
Can Last a Lifetime
Able to Refinish Solid Hardwood.
Engineered Hardwood Does Not React to Changes in Moisture
Easy to Clean
The Bad:
Expensive
Takes Some Skill to Install
Can Only Be Refinished a Certain Number of Times Based on Thickness of Wood.
Cannot Refinish Engineered Hardwood
Scratches and Dents More Easily- You Can Consult the Janka Hardness Test to Determine How Dense a Certain Type of Wood Is.
Susceptible to Water Damage
Sunlight Can Cause Color to Lighten
Best For:
​​​Living Room
Dining Room
Office
Bedrooms
Moderate Climates
Avoid:
Bathrooms
Potentially Kitchens and Basements.
Not Ideal for Humid Climates.

Option 4: Laminate:
The Good:
Can Be a More Affordable Option Than Real Hardwood
Easier to Install Than Real Hardwood
Resistant to Scratches
The Bad:
Cannot Be Refinished
Can Chip
Much Shorter Lifespan Than Real Hardwood
Does Not Add As Much Value as Real Hardwood
Best For:
Living Room
Dining Room
Office
Bedrooms
Avoid:
Bathrooms
Potentially Kitchens and Basements.

Option 5: Vinyl:
The Good:
Inexpensive
Easy to Clean
Easy to install
Water Resistant
The Bad:
Not Very Durable- Can Rip and Tear.
Subject to Mold and Mildew- If Moisture Gets Underneath.
Best For:
Avoid:
Not Usually Seen in Bedrooms, Living Rooms or Dining Rooms.

Option 6: Cork:
The Good:
It Is a Green Product
Easy to Install
Affordable Alternative to Real Hardwood
Reduces Noise
The Bad:
Durability Issues
Susceptible to Water Damage
Must Be Sealed
Best For:
Avoid:
High Trafficked Areas
Rooms With Heavy Furniture Such as Living Rooms, Dining Rooms and Bedrooms.

Option 7: Linoleum:
The Good:
It Is a Green Product
Affordable
Easily cleaned
Easier to Install
The Bad:
Best For:
Avoid:
Not Usually Seen in Living Rooms or Bedrooms.