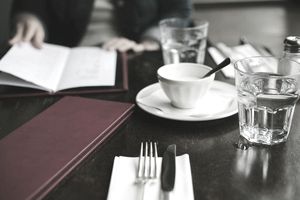 Prix Fixe literally means fixed price. It is a French term that refers to a type of menu featuring a pre-selected list of dishes at a set price. Prix fixe menus are most often found in upscale fine dining restaurants. Also known as a limited menu, prix fixe menus are ideal for special occasions, such as Mother's Day or Valentine's day. Prix fixe are also used as an alternative for catered functions, as a way to feed a large crowd, but still offer some menu selections within a certain price range.
What is a Prix Fixe Menu?
Prix Fixe menus go back to the earliest restaurants in France, following the French Revolution. Displaced chef's who no longer worked for aristocrats opened their own establishments, selling food to the public. The prix fixe menu evolved out of those early restaurants, offering a multi-course meal with a set price - which is still a common style of menu in many fine dining restaurants today. A prix fixe menu may include an appetizer, soup, salad, entrée and dessert all for a set price per person.
Prix fixe options may include just one menu selection or a few different menu selections. While prix fixe menus are very common in Europe, most American restaurants use them only occasionally, if at all.
Why Use a Prix Fixe Menu?
Serving a prix fixe menu during busy days like Mother's Day, Valentine's Day or New Years Eve, can help keep the kitchen stay under control. It allows the cooks to better prepare for a busy shift and can help keep a restaurant running smoothly on traditionally busy days. A prix fixe menu can also be run along side your regular menu, to promote certain specials. 
A prix fixe menu can also double for a weeknight promotion. For example, a restaurant may try offering a pre-selected meal at a set price every Monday night as a way to bring in business during an otherwise slow time of the week. A sample Monday night prix fixe menu could include an appetizer of oysters on a half shell, followed by an endive salad and entrée of Chicken Marsala. Crème brulee for dessert could round out this French-inspired prix fixe meal. This prix fixe menu could change weekly, to entice customers back for a new dining experience at an affordable price.
Next week's prix fixe menu could be an Italian theme, followed by a Caribbean theme or a Greek theme, and so on.
Prix fixe menus are also a good buffet alternative for smaller catered events, such as business luncheons, birthday parties, or wedding rehearsal dinners. Guests can choose for a preselcted menu, which helps keep costs down for the host. The restaurant kitchen can have the food selections prepped and ready and feed a semi-large group in a timely fashion. 
How Do I Write a Prix Fixe Menu?
There are no set rules to choosing foods for a prix fix menu. It can reflect your regular menu; perhaps a slightly dressed up version of house favorites. Or it can be a group of new special you want to try out. Offering a limited prix fixe menu is also a good way to showcase local foods. Usually a prix fixe menu is printed on a single sheet of paper rather than inserted into a menu jacket. Be sure to use good quality paper and a font that is large enough to read. Include your restaurant's name at the top.
Each dish should have a brief description (one or two sentences). Avoid using clip art or other pictures. Simple is best.
Prix fixe menus are a staple for many smaller, upscale dining restaurants that rotate dishes based on ingredient availability. They are also a popular option for pop-up restaurants, which only run for a certain amount of time.  If your restaurant has a permanent menu, prix fixe menus are great for special occasions or private catered events, allowing for customers to have some selections, while still keeping within the host's budget.
Prix fixe menus date back to the French Revolution; however, they remain a popular menu style for many upscale restaurants. Prix fixe is also a good tool for controlling food cost and keeping the restaurant kitchen running smoothly during busy days and nights. They are also perfect for catered dinners and fundraising events.