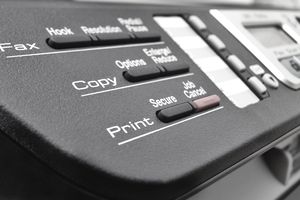 It's probably more fun to shop around and look at all the cool features of today's printers, but that should be further down your list of priorities. First, look at what types of documents and materials you print regularly. Look also at what you may be out-sourcing that you could produce in-house more efficiently if you had the right printing hardware.
If you do a lot of printing in both high-resolution color and contracts, etc. in black & white, you may need to consider two different machines. When you consider printing speed as well as ink costs, sometimes two will be less expensive than one.
Is Networking a Consideration?
If you want more than one person to use the printer from different locations, then networking is something to consider. The network router hardware is inexpensive, and you purchase a printer that already has the network card in it.
This will allow you to run cables, or use wireless networking, in order for multiple people to use the same machine. It's not going to add more cost than buying multiple machines in most cases. Plus, you don't have the overhead hassle of stocking ink or toner cartridges for different models or brands.
Get a "Duty Cycle" That Will Grow With Your Office Needs
When you're comparing the various brands and models of all-in-one printer scanner copiers, you'll see references to the duty cycle of the printer. This is usually the number of pages per month (or other time span) that the printer is rated to accommodate.
If you under-buy, meaning buying a printer that is rated to print 2000 pages per month and you're producing 5000, then it will be worn out very quickly and be a maintenance headache until you get rid of it. Whatever you're printing today, pad it about 20% and get a printer that will accommodate the projected workload if you grow.
Know What "Coverage Area" Means to Compare Operating Costs
This item fools users every day. Most detailed technical specifications will give you some kind of expected production capacity for the ink or toner cartridges. It will say that at "30% coverage" (or some other percentage number), that the ink or toner cartridge will produce xxx number of pages.
What you need to know is that 30% isn't a lot of coverage area on a page, especially if you're doing color marketing pieces or other image-heavy content. It's very hard to estimate this by looking at a page, but just assume that you'll be using a significantly larger area than quoted in most cases.
Duplexing Is Almost a Slam-Dunk in Today's World
Duplexing is the ability of the printer to print two-sided documents automatically. It generally adds enough to the cost that many will drop this requirement to save money. If you never print both sides, such as in a marketing piece or newsletter, then it's probably OK to drop it.
However, if you do two-sided print materials, generally it will be less expensive long-term to get duplexing. That's because the errors made by placing the first documents in the wrong way to get the second side will cause ink and paper costs to rise over time.
Speed Is an Important Factor in Large Jobs
When considering printing speed, as usually quoted in pages per minute, the black & white and color considerations again enter the picture. Generally, b & w will be faster. That's great, as most real estate offices have large volumes of contract and other transaction documents that are not in color. Faster speed for these will help immensely.
Laser is faster than inkjet usually. It's also more expensive, especially for color. Another consideration is the cost for ink and toner. Many offices find that one fast printer for documents and another high resolution one for color marketing pieces is better.
Printer Technology Moving Fast
Since I wrote this profile, printer technology has advanced a lot. I have come around to liking Brother printers the best. I just purchased a Brother MFC-8910DW, 42 page per minute speed, laser multi-function. For under $300 these days you can get some phenomenal equipment.