What are the Requirements for Keeping Paycheck Records for Employees?
Federal Law Requires That You Keep Paycheck Records and Other Documentation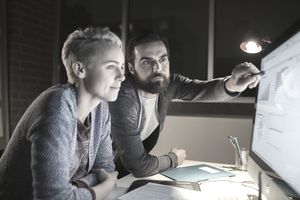 Keeping paycheck records and other employee documentation is mandated by the Department of Labor's Wage and Hour Division and the Fair Labor Standards Act. Employers must keep track of compensation and time off, and the Internal Revenue Service also requires that you keep payroll records for all current employees for a minimum of six years after employment ends.
What Paycheck Records Are Employers Required to Keep? 
You would normally keep most of the records required by law just in the course of doing business, so complying shouldn't take much in the way of extra steps or work.
Review the records you already have to make sure you're in line with IRS and FLSA requirements. 
Records can be maintained in any form, including electronically. The following must be kept for all non-exempt employees and those covered by minimum wage requirements:
Personal information, including the employee's name, home address, occupation, sex and birth date if he's under 19 years of age
The hour and day when his workweek begins
Total hours worked each workday and each workweek
Total daily or weekly straight-time earnings
Regular hourly pay rate for any week when overtime is worked
Total overtime pay for the workweek
Total wages paid each pay period
Date of payment and pay period covered.
Non-exempt employees must be paid at least minimum wage and receive overtime for any hours worked over 40 a week. An employee may be exempt if he is paid at least $455 a week on a salary basis and if he performs certain job duties, typically administrative, executive or management.
Straight-time pay is that which is earned during the first 40 hours in a workweek.
Records required for exempt employees differ from those for non-exempt workers, and special information is required for household employees, for employees working under uncommon pay arrangements, for employees to whom lodging or other facilities are furnished, and for employees receiving remedial education.
If any of your workers fall into these categories, consult with an attorney. 
Forms You Must Keep  
In addition to paycheck records, you should keep a few other documents on file for each employee.
A signed copy of his W-4 form showing federal withholding. This form can be changed many times so make sure you keep the most recent form on top. 
A copy of any form on which an employee has authorized pay deductions, including benefits and special donations like United Way or other charities
A copy of the employee's original application form and any supporting documents, like a resume or transcripts.
Records on changes in pay levels, including promotions or demotions, and the reasons for these actions. 
What's the Best Way to Keep Paycheck Records?
Paycheck records, including those documenting all hours worked, changes in pay status and pay rates, should be kept in a separate file. 
You must also keep records of all changes made to employee pay and benefits, including employee consents. You must have a written consent on file for any deduction from an employee's pay with the exception of FICA taxes and garnishments. 
Susan Heathfield, human resources expert, has more detailed information on what should be kept in an employee's personnel file.
Who Is Permitted to See Employee Records? 
Most businesses keep employee records in a restricted area and permit access only to individuals who might need to see the records due to their employment rank or position. Employee records should never be removed from the record room. If you have more than a few employees, you may want to set up a personnel file access policy so human resources employees know how to respond to requests. 
Employees should be allowed to see their own records. You may want to have someone stay in the room with an employee while he's viewing his own record. 
Designate which company employees can see employee records. Access is usually restricted to employees in the human resources department and managers and executives above a certain level. 
Various federal and state auditors may be allowed access to employee records for purposes of auditing. You can request a warrant before allowing an auditor access to employee records. 
Attorneys representing employees in lawsuits may be given access in certain specific cases. A top-level official or the company's attorney should verify the attorney's request before allowing records to be viewed.