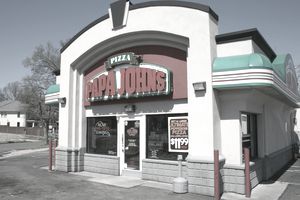 The third largest pizza company in the world is none other than Papa John's International with over 5,000 units worldwide. International milestones include landmark 100th store openings in the U.K. and China in 2008, plus the franchise's very first store opening in Amman, Jordan. Papa John's is taking full advantage of their website. You can check out specials, print out coupons, purchase or reload a gift card, or arrange for catering, and you can even order your dinner online.
Background and Benefits
Papa John's offers a surplus of support to help franchisees become successful. These resources include a team of franchise business directors, regional marketing directors, and operations specialists that analyze all facets of your franchise business from the inside out. This includes site selection assistance, IT Systems, risk (insurance) services and quality management. Papa John's also offers their exclusive PJ Food Service as the franchisee's one-stop shop for nearly all the ingredients and supplies that franchisees will ever need, including paper items and even cleaning supplies.
How Much Does a Papa John's Franchise Cost?
Papa John's will tell you right up front that you can have as many units as you want if you have the net worth to support and purchase them. Minimum net worth for one unit is $250,000. Four to 10 units are $1 million, and 11-plus units require $2 million in net worth.
Liquid assets consisting of cash and/or readily available financing should total at least $250,000 for any number of units. Other qualifiers include at least one partner, a successful business management background, and close proximity to the location chosen. The franchise fee is low at $25,000 with an ongoing standard royalty fee of 5 percent of net sales that's payable monthly. You must devote at least 8 percent of your monthly sales to advertising and marketing. 
The estimated investment is about $300,000 with an average unit of 1200 to 1400 square feet located in a strip center. But this can vary depending on your location and, of course, with differentials in square footage.
What We Like
Papa John's Pizza is relatively simple to get into compared to other restaurant franchises. The net worth requirement is reasonable and the royalty is a standard 5 percent that's renewable every 10 years. 
Absentee ownership is doable, and Papa John's actually encourages it you don't have QSR experience. However, the company does offer a six- to an eight-week initial training program in exchange for that franchise fee, and the experience can be particularly valuable whether you want to be a hands-on owner or stand in the wings. Ongoing training is available for both you and your team as well.
The standard franchise fee may be waived in 2017 as part of a special incentive offered by Papa John's. Royalty fees may be reduced over the first four years as well. 
What We Don't Like
About the only real con, we can think of relates to that forced marketing budget that takes a measure of control and flexibility out of an owner's hands. It fails to take into consideration that you might be able to hire a really great marketing firm at rock bottom prices, perhaps one that's just starting out or because you have a relative or close friend in marketing. He can get the job done, but you might have to pay for more anyway. 
Papa John's Franchise Information
Business Established: 1984
Franchising Since: 1986
Initial Investment: As little as $300,000
Sales-to-investment ratio: $879,794 as of 2016