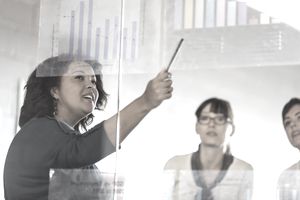 It is unbelievably easy to get so lost in the present that you forget to step back and take stock of where you have been and where you are going.
Those who work in the nonprofit community know this as well as anyone.
There is no better time than right now to look at the progress of your organization. And there's no better way to predict where your organization is going than to evaluate how you got to where you are.
Your performance history can guide you to improvements that are more than just cosmetic or slap dash. Metrics, properly used, will help you focus on the fixes that are most likely to pay off.
For example, let's say you are struggling with getting donors to stay with you.
Your nonprofit decides to make donor retention a priority to combat the issue.  But, instead of looking for specific shortcomings, you move full steam ahead with a list of brainstormed, crowdsourced strategies from your team.
Sure, some of those strategies could work. But your plan would be much stronger if you were aware of and accounted for the fact that your biggest retention deficit occurred with online donors. That information changes the game. Brainstorming with that knowledge is much more effective.
Monitoring success metrics is simply a must.
As the nonprofit world evolves and the world shifts towards total online saturation, tracking becomes more important than ever.
Fortunately, keeping up and analyzing your numbers is easier than ever.
1. Social Media Conversion
Social media has reached an interesting crossroads in the nonprofit sector.
At first, the free marketing potential was thrilling. Then, as sites like Facebook altered their newsfeed algorithms and some switched to a pay-to-play model, nonprofits had to adjust to a "no free lunch" reality.
Nonprofit organizations have had to decide how they are going to stay relevant with their online marketing through social media, without spending too much money and time.
Some nonprofits have apparently figured it out, because, in the past two years, donations over social media have increased by more than 32% (90% of those donations were made on Facebook).
What does this all mean in terms of success metrics? Just as nonprofits have had to adjust how they are marketing on social media, they must change how they are judging their results.
Yes, interaction on your various social sites is good for the organization. It never hurts to have another channel to reach your supporters and for them to reach you. However, how do page "likes" and "follows" translate to donations? That's the most important metric.
Bottom line: You need to know if and to what extent your social media activity converts people from followers to donors.
With that information, you can trace your steps and determine where to spend your time on social media.
Is your Facebook page drawing far more donors than Pinterest? Vice versa? Is it your Twitter account that's in the lead?
Your answers to those questions will shift depending on how you manage your various accounts, the kind of work your nonprofit does, and who is your average online donor, not to mention figuring out what he or she wants.
2. Number of Gifts Acquired Online
Closely connected to social media analytics, but on a grander scale, is metric number two. You need to be tracking your online performance.
It might be slower going than most would predict, but the world of fundraising is moving towards more online donations. Because of that steady movement, you need to keep up with the times and even get ahead of them.
This tracking process is very straightforward. Maintain records of how many donations come in through online channels. Then, consider how this number compares to all the other ways you receive gifts.
For more analysis, you can further segment your data into social media leads, website visitors, and email leads..
The online donation process is easier for the donor and more cost-effective for your organization. As you continue to improve your online presence and methods, look to this metric to measure your progress.
If you target Millennials, your online donation system better be up to par! And your systems must be mobile ready.
Donors expect online sophistication from every website they visit. If your nonprofit doesn't have a great online giving portal, they will notice.
How will you know if your online giving experience meets those high expectations? By the numbers. Low online donations mean a poor donor experience.
3. Return on Investment (ROI)
ROI is the most important metric of these three.
How do the time, effort, and resources you put into a particular fundraising practice compare to the donations you receive? It is an input and output question.
Answer this question for all of your fundraising practices and methods and you are on a path to understanding your organization's fundraising needs.
Too often, nonprofits stick with fundraising plans that are no longer working just out of habit. It's okay to step back from your regular techniques if they have stopped producing results and are no longer generating enough return on investment.
Get creative. If your budget is tight, there are plenty of low-cost fundraisers. If you can invest in a pricier, higher-end fundraiser, there are those options as well. The Internet gives you the flexibility to cut costs without cutting quality, so take advantage.
All three of these success metrics can help your organization track its ability to evolve as your donors' giving changes. These metrics will tell you how productive your organization is in terms of today's giving culture.
With that information, you'll be able to make better choices sooner.
Metrics could be Dan Quirk's middle name. He is Marketing Manager for DonorPro, which is a fundraising software company. Dan is all over digital fundraising, keeping up with the latest trends and best practices. Find out about DonorPro and how to follow Dan by checking out his bio.