Sources of Microloans for Starting a Canadian Small Business
Need Money to Start Your Small Business? Get a Microloan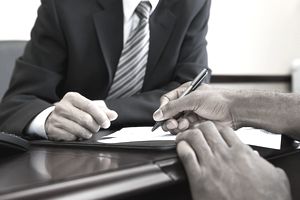 A young mother who saw the need for a children's consignment store. A man who dreamed of having his own food truck business. Just two examples of people whose skills and business ideas would have been wasted without the start-up loans that microfinance programs provide.
We tend to think of the developing world when we think of microfinance, but the concept of providing loans and financial services to people who would otherwise have no or limited access to them is alive and well in Canada, too - good news for prospective entrepreneurs looking for start-up money.
How Much Do You Need?
Fifty-eight percent of Canada's small business owners started out with less than $5,000, and 79% started their business with less than $20,000, according to a study of entrepreneurship in Canada by Intuit Canada. (And for one-person shops, the study found that that number is even higher: 77% reported starting with less than $5,000.)
But that $5,000 can be as difficult as trying to borrow $5 million if you're a person with poor credit and/or no collateral.
Fortunately, the Canadian government, Credit Unions, and community groups have developed programs that offer microcredit (small business loans of under $20,000) to people who would have difficulty getting a traditional business loan.
Here are microloan sources you may be able to tap into for starting your Canadian small business:
Who Offers Microfinance Programs?
Many microfinance programs in Canada are location-based; you have to be living in a particular region to qualify.
Check this list to see what microloans are available to start (and sometimes to expand) a business where you live.
Remarkable Micro-Loan Program (Credit Unions of BC): offers BC residents 18 to 29 years old low-interest microloans of up to $5,000 for starting a Canadian small business.
Community Micro Lending: Billed as Canada's first peer-to-peer microlending, this non-profit society, has two branches in BC, one in Victoria and one in the Okanagan. They provide start-up loans of up to $5,000 and expansion loans of up to $10,000 to entrepreneurs who aren't able to get the credit they need from a bank or credit union. Anyone can loan money to successful loan applicants through the organization's website. (Currently, there's a minimum of $500 for lenders.)
Montreal Community Loan Association: This community organization provides loans of up to $5,000 to low-income individuals who want to start their own businesses but can't get credit through the usual channels. You must live on the Island of Montreal to access the program.
Student Entrepreneurship Program: The Government of New Brunswick offers interest-free loans of up to $3,000 to students who want to start a summer business. The business has to create at least one full-time summer job and provide the applicant with "valuable business experience".
Seed Capital Initiative: While not technically a microloan program, this government program operated by the Atlantic Canada Opportunities Agency provides loans of up to $20,000 to aspiring entrepreneurs in the Atlantic provinces (as well as loans to expand or improve small businesses). The Seed program also allows each client to access up to $2,000 for business training and consulting (which does not have to be repaid).
Enterprise Greater Moncton: If you live in the Dieppe, Moncton and Riverview area of New Brunswick, access the Seed Capital Program here.
Enterprise Saint John: ACOA's Seed Capital Program can be accessed by those in the greater Saint John area in New Brunswick to start, expand or improve a small business.
Enterprise Fredericton: operates the Seed financing program for budding entrepreneurs in Fredericton, Oromocto and New Maryland in New Brunswick.
Centre for Entrepreneurship Education and Development (CEED): Available to businesses in Halifax, Dartmouth, and Bedford, the Seed Capital Program is for people who want to start a business age 18 and up – although young entrepreneurs (age 18 to 34) may also use funds as a business growth loan.
Metro Business Opportunities (MBO): To access the SEED program in Newfoundland and Labrador, you must be located in the St. John's – Mount Pearl area.
In St John's, there is also a Micro-Business Development Group (MBDG) Pilot Project for entrepreneurs who are planning, starting or expanding a micro-business. The program provides microloans of up to $10,000 as well as access to training, business counseling, and business networks.
Kick$tart: If you're under 35, living in Newfoundland and Labrador, and unable to get the money you need to start or expand your business,  you can get a $5,000 low-interest loan.  (Note that you do not have to be 18 or older to access this program, as long as your parent or guardian is willing to co-sign the loan if you're under 18.) Other microfinance programs target particular groups and are available to qualifying people across (most) of the country.

Immigrant Access Fund Micro Loans: IAF loans are for tradespeople, professionals and/ or skilled workers from other countries to get the licensing or training that they need to work in their field in Canada. Loans of up to $10,000 are available to immigrants living in Canada (excluding BC and Quebec at the time of writing).

In BC, low-income immigrants who don't meet the criteria for conventional loans can get microloans of up to $5,000 through DIVERSEcity to start a business or get the training or certification they need to work in their field in Canada.
No Micro Loans Listed for You?
The best news of all is that the microfinance movement is spreading. If you don't see any loans that you can apply for in the list above, check with the economic and/or social development agencies in your hometown and ask your Credit Union or Caisse Populaire if they have such a program. Just because a bank won't give you a loan doesn't mean the money you need to launch your dream is out of reach.