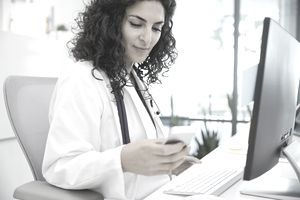 Medisoft is a medical billing and accounting software used by doctors and other health care professionals to input patient records, submit insurance claims, and manage patient receivables. Medisoft is the most popular medical billing software used by many medical billing schools to train students.The Windows-based medical billing software is relatively easy to use and is reasonably priced for small-to-mid-sized healthcare practices.
Developed by the McKesson Corporation, Medisoft is regularly updated to be up-to-date on health care, insurance, and other regulatory changes.
Core Features: Medical Billing and Patient Accounting
Medisoft's uses simple icons that identify the most common tasks done on a daily basis to manage patient accounts, collections, write-offs, patient co-pays, and other medical accounting tasks. You can use the software in your medical practice to get real-time financial data for improved decision making. For example, you can review patient receivables and billing history to set up payments plans in Medisoft. Medisoft Patient Accounting also ensures that your practice is compliant Health Insurance Portability and Accountability Act (HIPAA), which regulates the electronic transmission of specific healthcare transactions.
Electronic Transaction Reporting
Medisoft helps you manage electronic transactions related to verifying your patients' insurance eligibility and submit insurance claims for reimbursement from insurance providers.
BillFlash Integration
Medisoft uses BillFlash to print and mail patient statements. BillFlash lets you upload your billing information and then creates your customized professional invoices and mails them the next day. BillFlash will eliminate the administrative tasks associated with preparing and mailing invoices, such as printing invoices, stuffing envelopes and applying sufficient postage.
You can enroll in BillFlash directly from Medisoft, as well as set up automatic uploads of your billing statement files directly from Medisoft.
Mobile App
Medisoft V20 has a Mobile app that billers, doctors, and front desk staff can use to access the software from their smart phones or tablets.
Medisoft Practice Management Software
Medisoft Practice Management Software is designed to streamline your practice workflow and electronic health record (EHR) adoption. Medisoft Practice Management Software includes data field drop-down menus to help medical billers with codes described in plain language.
Medisoft's Limitations
Medisoft's accounting features are posted in real-time and does not have a "day close" or batch posting feature so that each day's transactions are permanently saved. You can use security features to help ensure that records are deleted and use adjusting entries to balance the books when errors are detected. However, larger medical practices and healthcare organizations need more control over accounting processes, and real-time processing is not useful if thousands of transactions are being processed daily as the database cannot handle this many transactions and the program will run slowly.
Medisoft will meet the needs of most small medical practices, especially those on a cash-basis of accounting.
Medisoft's Statement Manager requires set up, and rebilling statements require training to understand the process. You and your staff should spend adequate time training in this area to ensure you can process transactions well.
Some users have reported that they have experienced long wait times for technical support if they call outside of morning hours. Medisoft has email support, which will usually take 1-2 days to receive a response to your question.
Conclusion
Medisoft is a popular medical billing software for small medical offices due to its ease of use, pricing, and features. Larger healthcare organizations will probably want to consider more sophisticated software to meet their needs.
Doctors and other small healthcare providers will also find that it is advantageous to choose Medisoft because many medical billers are trained on this software.
You can learn more about Medisoft by visiting www.medisoft.com