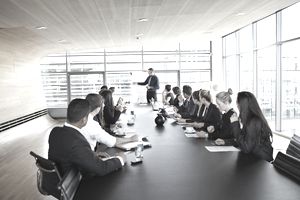 Marketing is a very diverse industry. At its core, marketing is any activity of a company associated with buying or selling a project or service. Marketing professionals can work for large or small companies as in-house marketing professionals or, work for one of the thousands of marketing companies nationwide. The goal is to get the attention of a target audience by using slogans, packaging design that promotes a brand image, celebrity endorsements, using social apps with enticing videos or photographs, and general media exposure.
Even the small task of writing a thank-you letter or playing golf with a prospective client falls in the marketing category.
A Marketing Dictionary Keeps you up to Date
A marketing dictionary is a must-have for all marketing professionals because there are numerous marketing definitions that you must understand to be successful. Additionally, many terms have variations and new terms are added daily and it's important to stay current. This marketing glossary serves as a marketing reference and provides in-depth definitions, explanations, references, and examples. As you go through the list, keep in mind that marketing term is approached with the following questions in mind:
What is the marketing term?
What does the marketing term mean?
Why does it matter to marketing professionals?
Are there similar marketing terms that correlate with that term that marketers should know?
Are there relevant examples that help in understanding the marketing term?
A
Agency Commission
B
Business-to-Business Advertising
C
Caption
Cost Efficiency
D
Day-After Recall Test
Direct Mail
E
End-User
F
Flat Rate
G
H
I
In-Pack Premium
Integrated Marketing Communication (IMC)
J
K
L
M
Market Segmentation
Marketing Research
N
Norms
O
On-pack (On-pack Premium)
P
Persuasion Process
Q
Qualitative Research
Questionnaire
R
S
Subliminal Perception
T
U
V
Values and Lifestyles (VALS) Research
W