2013 Largest Gas Station Convenience Store Chains in the US
Stores With the Highest Total Store Count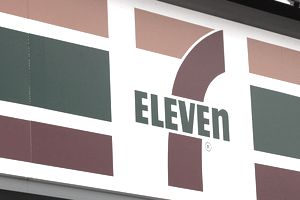 With more than 120,000 store locations that generate more than $700 million in annual revenue, the convenience store segment of the U.S. retail industry is a segment worth watching and measuring. There are many ways to measure and rank the "largest" convenience store chains operating in the U.S. The way CSNews chooses to measure and rank each year is according to the total U.S. store count, whether the parent company is based in the U.S. or not.

Comparing the rankings of the 100 Largest Convenience Store chains from 2012 and 2013 reveals that the Top Ten largest convenience store chains operating in the U.S. which includes 7-11, BP, Shell, Chevron, and Alimentation Couche-Tard, don't change their rankings much from year to year.
The exception to that on the 2013 largest Convenience Store ranking list is Casey's General, which jumped up three ranking positions into the #8 position, and The Pantry, which overtook Speedway to break into the Top Ten of Largest Convenience Store Chains in the U.S.

What follows is a two-year comparison of Largest C-Store Chain rankings. The list is arranged alphabetically according to the name of the retail chain. The number next to each year indicates the ranking of the chain as measured by total U.S. store count when compared to a total of 100 of the largest convenience store chains.
Largest Convenience Store Chains According to U.S. Store Count - Two Year Comparison, 2013 - 2012:

7-Eleven
2013 - 1
2012 - 1

7-Eleven Stores of Oklahoma (7-Eleven, Sundial Deli Mart)
2013 - 63
2012 - 63

Admiral Petroleum
2013 - 73
2012 - 74

Alimentation Couche-Tard (Circle K, Dairy Mart, Gas Express, Mac's)
2013 - 5
2012 - 5

Allsup's (Handi Plus, Handi Stop)
2013 - 33
2012 - 32

Big Apple
2013 - 82
2012 - 86

BP (ampm, Amoco, Arco, BP, BP Connect)
2013 - 3
2012 - 3

Bucky's Express
2013 - 100
2012 - N/A

Casey's General Stores
2013 - 8
2012 - 11

Certified
2013 - 95
2012 - 94

Chevron (Chevron, Chevron ExtraMile, Texaco)
2013 - 4
2012 - 4

CHS Inc. (Cenex, Zip Trip)
2013 - 16
2012 - 25

Circle K
2013 - 96
2012 - 97

CITGO
2013 - 9
2013 - 10

Clark
2013 - 45
2012 - 47

Convenient Food Mart
2013 - 51
2012 - 49

Corner Store
2013 - 15
2012 - 9

Cumberland Gulf Group (Cumberland Farms, Gulf)
2013 - 17
2012 - 16

Dandy Mini Mart
2013 - 92
2012 - N/A

Delek US Holdings (Discount Food Mart, Fast Food & Fuel, MAPCO Express, MAPCO Mart)
2013 - 30
2012 - 29

Duchess Shoppe
2013 - 61
2012 - 61

Energy Transfer Partners LP (APlus, Coastal, Optima, Sunoco)
2013 - 7
2012 - 8

Erickson Oil Products (Freedom Valu Center, Super America Erickson Oil)
2013 - 98
2012 - N/A

Express Lane
2013 - 99
2012 - N/A

ExxonMobil (Exxon, Exxon on the Run, Mobil, Mobil Mart)
2013 - 6
2012 - 6

E-Z Mart
2013 - 35
2012 - 33

Family Fare
2013 - 80
2012 - 83

Farm Store
2013 - 81
2012 - 74

Fast Stop
2013 - 87
2012 - 91

Fikes Wholesale (CEFCO Food Store, Food Fast Store, Taylor Petroleum)
2013 - 37
2012 - 43

Five Star Food Mart
2013 - 84
2012 - 95

Flash Foods
2013 - 48
2012 - 48

Flash Market
2013 - 84
2012 - 97

Gate Food Post
2013 - 92
2012 - 88

Getty Realty Corp. (Getty, Kwik Farms, Lukoil)
2013 - 14
2012 - 14

Giant Eagle (GetGo)
2013 - 60
2012 - 62

Go Mart Food Store
2013 - 65
2012 - 67

GPM Investments (Fas Mart, Shore Stop)
2013 - 42
2012 - 41

Handee Hugo's
2013 - 92
2012 - 92

Hess (Hess, Hess Express, Wilco Food Mart, Wilco Travel Plaza)
2013 - 13
2012 - 15

Holiday Stationstores
2013 - 25
2012 - 24

Huck's
2013 - 62
2012 - 63

Hy-Vee Gas Station
2013 - 67
2012 - 70

Jacksons Food Store
2013 - 43
2012 - 42

Krauszer's Food Store
2013 - 57
2012 - 57

Kroger Co. (Kwik Shop, Tom Thumb, Turkey Hill Minit Mart)
2013 - 18
2012 - 17

Kum & Go
2013 - 27
2012 - 26

Kwik Stop
2013 - 58
2012 - 58

Kwik Trip Inc. (Kwik Star, Kwik Trip)
2013 - 29
2012 - 29

Lehigh Gas Corp (Choice, Express Lane, Joe's Kwik Mart, Kwik Pik, UniMart)
2013 - 49
2012 - 66

Love's Travel Stops & Country Stores
2013 - 34
2012 - 35

Maverik
2013 - 38
2012 - 37

Meijer Gas Station
2013 - 52
2012 - 52

MFA Petroleum
2013 - 78
2012 - 77

Moto Mart
2013 - 87
2012 - 88

Murphy Oil USA (Murphy Express, Murphy USA)
2013 - 53
2012 - 59

Nice N Easy Grocery Shoppe
2013 - 76
2012 - 80

Phillips 66 (76, Conoco, Phillips 66)
2013 - 12
2012 - 13

Pilot Flying J (Flying J, Pilot Food Mart, Pilot Travel Center)
2013 - 24
2012 - 22

Plaid Pantry
2013 - 64
2012 - 65

QuickCheck
2013 - 59
2012 - 59

QuikTrip
2013 - 20
2012 - 20

RaceTrac Petroleum (RaceTrac, Raceway)
2013 - 19
2012 - 18

Road Ranger
2013 - 87
2012 - 80

Roadrunner Market
2013 - 72
2012 - 71

Royal Farms
2013 - 55
2012 - 56

Sheetz
2013 - 26
2012 - 28

Shell / Motiva Enterprises
2013 - 2
2012 - 2

Sinclair
2013 - 55
2012 - 55

Speedway
2013 - 11
2012 - 7

Spinx Store
2013 - 96
2012 - 99

Spring Mart
2013 - 78
2012 - 92

Star Stop
2013 - 87
2012 - N/A

Stewart's Shop
2013 - 32
2012 - 31

Stop In
2013 - 87
2012 - 86

Stripes
2013 - 23
2012 - 21

Sunmart
2013 - 84
2012 - 88

SuperAmerica
2013 - 40
2012 - 38

Tedeschi Food Shop
2013 - 45
2012 - 44

Terrible Herbst
2013 - 68
2012 - 68

Tesoro Petroleum (2 Go Mart, Big Johns, Tesoro, USA Fuel Center)
2013 - 31
2012 - 34

The Pantry (Kangaroo Express, Presto, Petro Express)
2013 - 10
2012 - 12

Thorntons
2013 - 49
2012 - 50

TimeWise Food Store
2013 - 41
2012 - 39

Town Pump Food Store
2013 - 71
2012 - 74

TravelCenters of America (TA, Petro Stopping Center, Goasis)
2013 - 39
2012 - 40

Tri Star Energy (Daily's Express, Daily's Tri Star Energy, Scot Market)
2013 - 83
2012 - 83

True North
2013 - 75
2012 - 72

United Dairy Farmers
2013 - 47
2012 - 45

United Refining (Country Fair, Kwik Fill, Red Apple)
2013 - 36
2012 - 36

U.S. Military (Coast Guard Mini Mart, Marine Corps Shoppette, NEXCOM Mini Mart, Troop Store)
2013 - 21
2012 - 23

VPS Convenience Store Group (Village Pantry, Scotchman, Li'l Cricket Stores, Young's Next Door Stores)
2013 - 28
2012 - 27

Wawa
2013 - 22
2012 - 19

Western Refining Inc., Giant Industries (Giant, Howdy's Foodmart, Mustang)
2013 - 44
2012 - 53

Xtra Mart
2013 - 54
2012 - 54