Joining Business Organizations and Networking Groups
Small Business Success Program: Business Success Lesson 7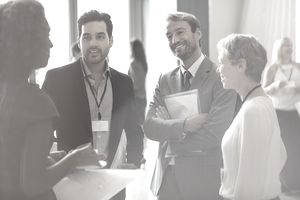 For all the hype about social media, the best way to increase your business success is still to join business organizations and/or "face-to-face" business networking groups. This is especially important for small businesses trying to sell locally.
Joining organizations or networking groups lets you interact with like-minded people who can be invaluable sources of information and support - and send customers your way.
Additional Benefits of Business Organizations
Many business organizations also offer other benefits to members, such as discounts on particular services or products, or special promotional opportunities.
For example, many business networking groups offer members the chance to present their business to the group, or get specific business advice. Business organizations with websites often allow members to list their businesses in their online directories for free, or advertise without cost on their sites.
Besides the support and camaraderie, belonging to organizations can increase your business's credibility. Many potential clients or customers view membership in relevant business groups as a sign that you're an established business and accepted by your industry.
Industry-Specific or General Business Organizations?
Being a member of an industry-specific business organization is a great way to contribute to the growth of your industry and keep up with advances in your field, as well as an excellent opportunity to learn from others who may have more experience or new ideas.
General business organizations provide opportunities to interact with people in other fields, which can be an eye-opening experience. Many organizations exist for a particular purpose, such as to provide networking for businesses in a specific geographic area. Others focus on community service which can greatly enhance your small business's profile in the community.
My advice is to belong to at least one of each type.
Social Media Networking is Good, Too
Don't get me wrong. I'm not saying that participating in social media is a bad thing. Not at all. I'm just saying that this should not be the only way you're being social, especially if you're a local business. Meeting other local business people face-to-face and thereby participating in your local community will do more to sell your sprockets or cleaning services that thousands of tweets.
That being said, social media, such as Facebook, Twitter, and Linked-In, can be an excellent networking tool and provide lots of opportunity for engaging customers.
Just getting started? Learn how to create a social media plan.
But Can I Afford to Join a Business Organization?
Membership in many online business groups is free, while many national business organizations, such as the Canadian Federation of Independent Business and the Retail Council of Canada offer sliding scale fees, based on the size of your business.
Local business organizations are often less expensive to join. For instance, currently, it costs only $35 a year to belong to my local Home-Based Business Association. Now there's a bargain!
With all the benefits and opportunities that business organizations and business networking groups offer, the true question is how you can afford not to join at least one.
Business Organizations Related Reading
The 10 Commandments of Networking
22 Tips to Use at Your Next Networking Event
Homework Assignment
Join at least one business organization or networking group this week.
If you're looking for local business groups, try contacting your local Chamber of Commerce, or asking business people you know which business organizations they belong to or recommend and/or search for them online.
Other Lessons in the Business Sucess Series
Lesson 1: Time Management for Business Success
Lesson 3: Learn How to Delegate
Lesson 4: Increase Business Success with Daily Planning
Lesson 5: Get Ready to Sell by Building Self Confidence
Lesson 6: It Pays to PAK Your Small Business Image
Lesson 7: Joining Business Organizations & Networking Groups