How a Nonprofit Can Start and Market a Planned Giving Program
Start With Simple Bequests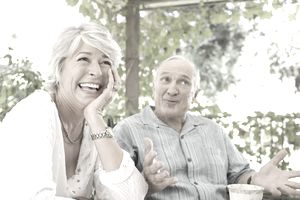 If you have jumped onto the bandwagon of planned giving, you are not alone. Most nonprofits now have planned giving programs or are considering them.

Why? The reasons are compelling:
The growth in bequests. Giving USA 2016 reported that total bequest giving in 2015 grew by over two percent so that it represents nine percent of charitable giving. 
The intergenerational wealth transfer, estimated by some to be in the trillions over the coming decades. A good chunk of that will go to nonprofits.
 Sometimes planned giving is called gift planning, deferred giving, legacy giving, or estate planning.
To put it simply, planned giving, whatever it may be called,  helps donors leave money or assets to a nonprofit at his or her death.
One attractive option for donors is to give a sizeable gift to the nonprofit through a charitable gift annuity. The donor receives a tax deduction at the time of the gift and then receives payments during his/her life. After the donor's death, the nonprofit can use the remaining donation. Trusts are another option.
Planned Giving programs often include a variety of financial instruments adapted to each donor's needs. Nonprofits often use professional help to set up planned giving programs, and they may hire staff educated in planned giving methods.
However, even small nonprofits can set up simple bequest programs so that donors can designate their favorite cause as a beneficiary in their wills.
What to Consider Before Starting a Planned Giving Program
A planned giving program will not solve a nonprofit's immediate financial needs. It is an investment in its future financial well-being. A planned giving program takes time to construct and even more time to realize results.
Nevertheless, a nonprofit that has succeeded in drawing other kinds of donations should think about putting a planned giving program into place.
Here are some things to consider before you take that step.
Understand what planned giving is and what it does for donors.
Donors are altruistic to be sure, but they are also motivated by a desire to achieve a little bit of immortality. No other form of giving does that better than a planned gift that will memorialize them after death. All planned giving programs begin with the simple bequest.
Your organization can become the vehicle through which people, otherwise ordinary in every way, can make a lasting mark through a gift that leaves the world a better place. 
Make sure that your organization is around when a donor's last wishes are read.
Saying so won't make it so. You must demonstrate to potential donors that your organization has staying power and that you will be able to put the donor's wishes into play. If your organizational purpose is time-limited, don't even consider a planned giving program.
Consider your organization's mission, goals, and activities.
Are they big enough and important enough to enable a donor to leave a lasting legacy? Donors envision leaving something permanent, such as a park, building, or scholarship fund. Can you provide that kind of permanent memorial?
Can your organization articulate how planned gifts will be spent?
You must think this through before talking to donors about leaving their money to you. Donors do not want to give their estates to your operating fund. They want to see them invested for the long term in something significant and sustainable. Having such possibilities available will reassure donors that you will not spend their gift carelessly.
Can you offer meaningful recognition opportunities for your donors?
Although not all donors want to be publicly recognized, many will. Can you provide "naming" opportunities (a building, monument, land, scholarship) that will carry the donor's name into perpetuity?
Does your organization command community respect and stature in its field?
Donors want to affiliate with "pillars of the community." They trust such organizations and institutions to use their gifts wisely even when they are no longer around to monitor their actions.
Have you done your homework?
To prepare for a planned giving initiative, you must educate everyone in the organization including staff and board members so that they both understand and support what you are doing. They must be able to promote your giving opportunities to prospective donors.
How strong is your financial management?
You will need a robust financial management system run by experts to execute your program competently.
Start with bequests and build toward more complicated instruments, such as annuities. Enlist a good consultant and set up relationships with trustworthy financial institutions.
How to Market Your Planned Giving Program
But planned giving is not just about setting up the many planned gift vehicles. It is also about selling your program to donors and prospective donors.
Laura Fredericks, the author of The Ask: How to Ask for Support for Your Nonprofit Cause, Creative Project, or Business Venture, says that planned giving programs need to be sold. You need to let your donors know that you are ready and willing to help them "fulfill their philanthropic dreams of supporting your group."
Fredericks suggests these first steps:
Make use of what you already have. Start out slowly and build your marketing program. Begin by using your existing publications, direct appeals, website, and special events to advertise the types of planned gifts you are set up to offer.
List a particular person as the planned giving contact.  Provide a telephone number, e-mail address, and mailing address.
Include a link to a planned giving section on your website. Explain the types of gifts available, the minimum level for each, and the benefits.
Educate board and staff. If you have to fight for space on your website and in your publications, convince your board and your CEO that planned giving is necessary.
Use methods that work. According to the Association of Fundraising Professionals, mailed solicitations, advertisements in your publications and on your website are the best ways to generate interest in bequests and other planned gifts.
Fight for a budget. Make sure that you have an adequate budget for marketing planned gifts.
Create new materials. After beefing up existing materials, move on to a planned giving newsletter for current planned givers as well as those who have inquired about such gifts.  Send it to all ages, since planned giving can occur with any age cohort. Also, create a planned giving brochure and send it as broadly as you can afford.
The Fundraising School at the Center on Philanthropy suggests::
When budget allows, you may want to prepare brochures about each planned giving opportunity. There are also companies that offer generic brochures imprinted with your organization's name and logo. They can even include custom photos and stories specific to your mission.
Newsletters should carry stories and pictures of donors who choose particular gift options. It may even be possible to recruit sponsors for the newsletters such as law firms or banks to underwrite the cost in exchange for their name on the newsletter.
Consider planned giving seminars. It is wise to use a well-respected professional financial adviser and to keep the technical aspects of the presentation to a minimum. Make sure donors leave the seminar enlightened and motivated, not overwhelmed and confused.
Consider setting up a Planned Giving Recognition Society. Having a particular membership group helps eliminate the common problem of not knowing about a bequest until after a donor's death. The society not only provides a way to recognize donors, but it also encourages disclosure of donor plans and intentions.
A planned giving program is not easy or cheap to set up, so make sure that you market it adequately. It will pay off with long-term stability for your organization.
Suggested Resources:
Donor-Centered Planned Gift Marketing: (AFP Fund Development Series), Michael J. Rosen 
The National Capital Gift Planning Council 
Planned Giving Marketing Solutions
Donor Search (Wealth Screening)