How to Publish eBooks for Publicity and Profit
Tips to Using eBooks to Promote Your Business and Make Money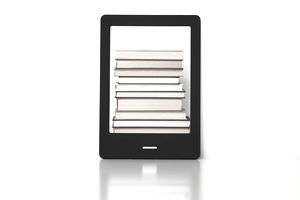 eBooks and Amazon have done to reading what MP3s and iTunes have done for music. Now it's possible to store more books in less space, and they've become more affordable. For entrepreneurs, the growth of the ebook has created a multitude of marketing and income possibilities.
History of the eBook
Interestingly, the concept of the ebook or electronic book dates back to the 1930s. And since then, many others have discussed the idea of books in electronic form.
But it wasn't until the 1990s that ebooks came to use. In 1992, Sony introduced the Data Discman that could read books on a CD. In 2007, Amazon introduced the Kindle, and within a few years not only dominated the sales of ebooks but the publishing of them as well.
Growth of ebooks by the mainstream was slow until 2009 when Stephen King published a novella exclusively for Amazon Kindle. With a best-selling author behind the concept and the creation of Amazon Kindle Direct Publishing, ebooks grew exponentially in popularity.
Early ebooks by entrepreneurs were usually Adobe PDF documents sold on their websites as information products. These books were often long and expensive from $49 to $149. In the mid-2000s, self-publishing began to grow with options such as print-on-demand and electronic publishing that were easier and more affordable than traditional vanity publishing. As a result, many ebook publishing companies emerged to help budding authors.
The use of books for marketing purposes isn't new, but the emergence of ebooks and print-on-demand has made it easier and more affordable for business owners to create books to increase their credibility, as well as offer another income stream. 
Today, ebooks are a $6.74 billion industry and is expected to grow to over $8 billion by 2018.
The Pros and Cons of eBook Publishing
If you have an online business or if you are thinking of starting one, you may want to consider creating and selling informational eBooks on your website. 
The Pros of eBook Publishing
eBooks offer many advantages to home-based entrepreneurs including: 
Fast to produce depending on the topic and purpose.
Affordable to publish. Many resources will publish and distribute to the major ebook retailers for free.
Can increase your credibility in the market. People are impressed with a book particularly one sold on Amazon or Barnes and Noble.
Offers another stream of income to your home business.
Can become a business enterprise on its own.
eBooks are passive income, in that you create it once and it can keep making money for you.
The Cons of eBook Publishing
Like all things in life, there are downsides to creating ebooks including:
The market is saturated and it's difficult to get your book noticed.
The quality of content and format is crucial. No longer can you slap something together and expect to sell and make money.
ebooks sell at a lower price point than other information products such as ecourses, which means you have to sell a lot to make money.
Ebook Publishing for Marketing
Perhaps you don't see yourself as an author, ebook publishing can still offer some great marketing advantages.
As mentioned, it can help you increase your credibility. This not only makes potential customers and clients more likely to consider your business, but it can make it easier on your publicity campaigns as well. Many media outlets will pay more attention to a published author, that an expert that doesn't have a book.
Further, having your book on Amazon or Barnes and Noble can expand your reach to your market. Because ebooks are priced low, potential customers and clients can learn about you and your expertise from your book, and then contact you through your website for your services or products. 
Ebook Publishing as a Business
Perhaps you're an author at heart but have been unsuccessful at getting a traditional deal. Or maybe ebooks is the most viable way over e-course or blogs to make money on your expertise.
Whatever the reason, you can start a business ebook publishing your own works. You can even expand to publish other people's works. 
Writing and Selling Ebooks
Like many new fads, many people take advantage trying to make a quick buck. However, when it comes to writing ebooks, if you want to make a good, lasting impression, that benefits your business, you need to focus on the same aspects of any good business:
You need a quality product, which in this case is a book. Your book should not only offer good content, but also be professionally edited, formatted for best viewing on e-readers, and have an appealing cover. 
You need a target audience who wants to read the book you've written. Just because a book is listed on Amazon, doesn't mean it will get noticed. Like all businesses, you need to create a marketing plan. 
Get your book in front of your market. Depending on the publishing deal you have, you can sell your book everywhere, including Amazon, Barnes and Noble, iBooks, Kobo, and your own website. However, if you've entered into an exclusive distribution deal, such as with Amazon Kindle Direct Publishing - Select, you can only sell there.
Tell people about your book. Include your book on your website and marketing materials. Share excerpts of and articles related to your book's topic on your blog and other websites. 
Selecting Topics for EBooks
One of the fastest and easiest ways to create an ebook is to create one on a topic you know about. Almost everyone has knowledge that can help others. Do you know how to container garden? Maybe you have a stack of recipes that lets a family of four eat for $20 a week. Maybe you have a vast knowledge of a topic and you can create a series of books. For example, if you're a gardener, you can books on rose gardening, vegetable gardening, inside gardening, organic gardening and more. 
It can help to research if your topic is something others want to know about. Doing keyword research on a site such as SEO Book as well as checking out Amazon's best sellers in the topic can help. 
Honing EBook Writing Skills
Not sure you have the skill to write? There are several options for beefing up your writing. First, it's important to know that first drafts aren't ever good. Often it takes two, three or more revisions to make your book the quality it needs to be. Second, consider having beta readers who go through your manuscript and can let you know where it's weak and needs work, as well as what they like. Finally, hire an editor. Even if you're writing top-notch, you'll want an editor to check for flow, as well as grammar, spelling, and other areas. Don't skip this. Anyone who tells you mistakes is okay is wrong. Readers are a picky bunch and they'll rate a book with 5-star content with 3-stars if there are typos and other errors.
More Internet-Related Business Ideas
Updated and Revised May 2016 Leslie Truex